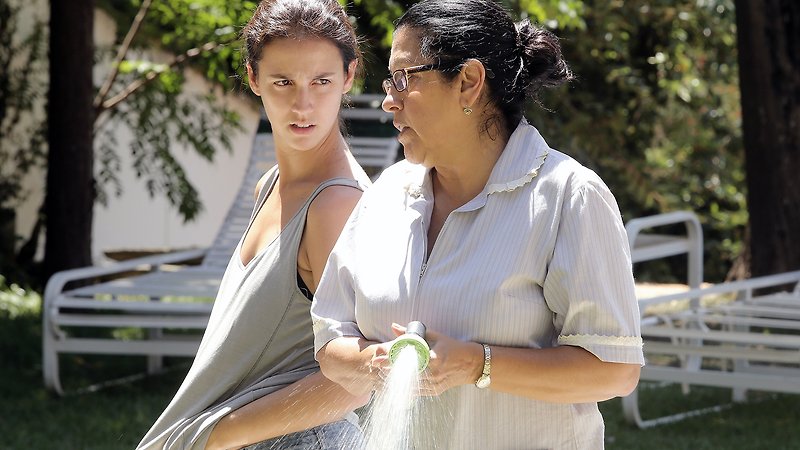 The Second Mother
2015
Que horas ela volta?
Centred on a warm and humorous performance by Brazilian actress and TV host Regina Casé, The Second Mother brings a keen edge of social critique to its heart-tugging tale of mother and child reunion. Val (Casé) has been a devoted live-in housemaid for a São Paulo family for 13 years. She serves impeccable dinner parties for Bárbara, the brusque, self-made businesswoman who's her boss; she keeps track of the layabout husband's medicine regimen; and she is confidant and comforter to Fabinho, the teenage son. In short, the good-natured maid is the nurturing figure in the household. The disconnect with actual motherhood is brought into strong relief with the arrival of Val's biological daughter, Jéssica, in São Paulo for university entrance exams. Educated and assured, she hasn't seen her estranged mother in a decade. To Val's intense embarrassment, Jéssica assumes equal status with her employers and sparks a crisis that's been a long time coming. The boss-housemaid dynamic at play here may be deeply rooted in Brazilian society, but writer/director Anna Muylaert clearly appreciates that seeing one's child emancipated beyond one's reach might hurt in any language.
"This densely layered yet almost fast paced-feeling drama not only passes the Bechdel test with flying colours, but dissects with both chilling precision and humour such matters as class differences, real mothers vs caretakers and whether privilege and one's own station are things that can be questioned or changed." — Boyd van Hoeij, Hollywood Reporter
Screening With This Feature
A young mother must come to terms with the consequences of a difficult decision. Screening with The Second Mother.