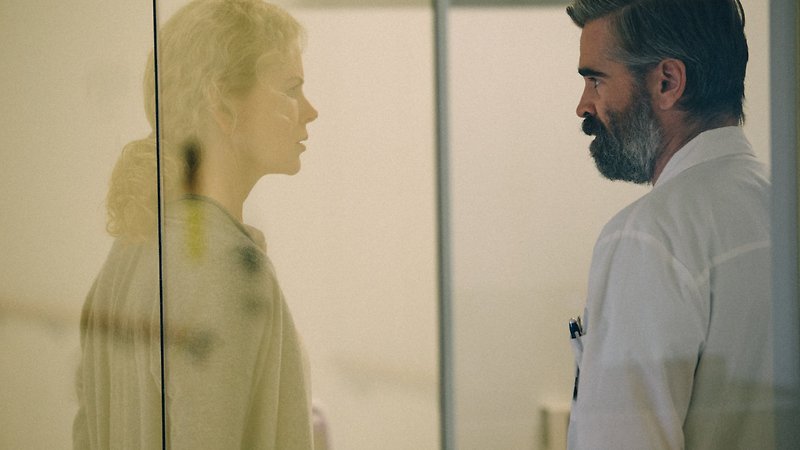 The Killing of a Sacred Deer
2017
This new movie by the Greek director Yorgos Lanthimos (The Lobster, Dogtooth) is a meticulously wrought chiller, visiting the retribution of classical tragedy on a fatally flawed surgeon, played by Colin Farrell.
"The rich vein of unsettling darkness and psychological unease that ripples like a treacherous underground stream beneath the absurdist humour of Yorgos Lanthimos' work becomes a brooding requiem of domestic horror in his masterfully realized fifth feature, The Killing of a Sacred Deer. Reaching back to classical Greek tragedy for inspiration, this hypnotic tale of guilt and retribution provides an even more riveting role for Colin Farrell after his collaboration on the director's English-language debut, The Lobster. He's flanked by a never-better Nicole Kidman and a performance of chilling effectiveness from emerging Irish talent Barry Keoghan in a thriller that frequently invites comparison to vintage Polanski…
The new film's grim scenario of a family under dire threat will make it hard for some to watch. But the impressive rigor of its craft, the skilfully subdued intensity of the acting and the startling originality of the story will make the film unmissable for anyone who cares about bold filmmaking…
This is a movie that closes its grip on our fears by infinitesimal degrees, demonstrating that bone-deep, tightly clamped anxiety can be scarier than screaming terror." — David Rooney, Hollywood Reporter
"A film of clean hands, cold heart, and near-Satanic horror, it was garlanded with boos at its Cannes press screening and it is absolutely fucking brilliant." — Jessica Kiang, The Playlist

The runtime for this film was published in the Festival booklet as 109 minutes. The correct runtime is 125 minutes.