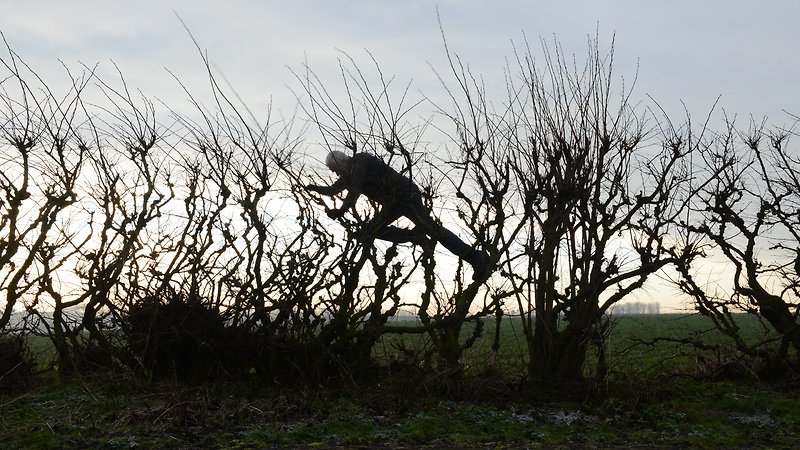 Leaning Into the Wind: Andy Goldsworthy
2017
Andy Goldsworthy is a British sculptor, photographer and environmentalist whose site-specific sculptures and land art redeploy nature's resources in startling and harmonious new shapes and textures. The spell of his work, whether it lasts as long as a country wall or until the next gust of wind blows it away, invariably encompasses its inevitable passing.
Thomas Riedelsheimer's landmark Rivers and Tides (2001) inventively documented Goldsworthy in the act of creation and introduced him to an international audience. Fifteen years later, Riedelsheimer returns to find Goldsworthy still engaged in his philosophical and tactical exploration of the natural world. The two pick up where they left off, only ranging more widely as Goldsworthy now accepts commissions around the world.
Leaning Into the Wind is their collaborative sequel, taking us into the hillsides, terrains and other outdoor spaces where Goldsworthy feels most at home and inspired. He chats and he works. Exquisitely soundscaped and seductively photographed to a score by Fred Frith, this is as entrancing an onscreen encounter with an artist as you could hope to find.
"'You can walk down the path, or you can walk through the hedge…' That Goldsworthy invariably chooses Plan B goes to the heart of the fascination with his site-specific, variably ephemeral work, in which elements of the natural surroundings are altered into striking yet harmonious new shapes. Leaning Into the Wind is not so much a sequel to as simply an extension of [Rivers & Tides], sharing the same meditative, episodic, visually seductive appeal." — Dennis Harvey, Variety