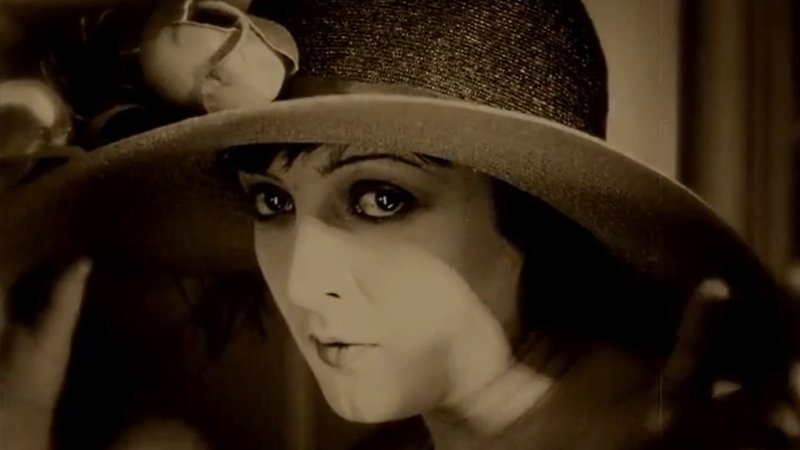 Set in Weimar-era Berlin, Variety is at once a dazzling celebration of the cabaret milieu and a cautionary tale of the emotional turmoil experienced in love when you want to have your cake and eat it too. Told as a flashback from prison, trapeze artist Boss (first-ever Oscar recipient Emil Jannings) recounts fleeing his role as family breadwinner in favour of a younger woman, only to see her slip away. Berta-Marie (Lya De Putti) falls prey to a sophisticate from their show troupe, and being in no position to deny his forceful advances, she gives in to the lure of social opportunity at the expense of working-class Boss.
Framed by the tense acrobat act the three work on together, and juxtaposed by the exhilarated bustle of their fellow performers, personal dynamics are brought to a head (claustrophobically so – the close-ups of Once Upon a Time in the West find a worthy predecessor here), and the trajectory of infidelity and jealousy must lead to disaster.
This is not a film about narrative subtlety – although there are a few surprising twists – but rather an allegorical play on the compulsions of morality and ego at their barest. While emotional essence rather than realism is the focus here, the characters' social subtext seems all the more authentic; the volatile class differences between Boss and his antagonist are drawn sharply and critically.
Nestled between expressionism and film noir, Variety is perhaps the most sumptuous cinematic testament to the thriving cultural landscape of urban 1920s Germany, and more than worth watching for this alone. On top of that, the 'unchained camera' pioneered here – such as in the breathtaking trapeze scenes – is simply sensational. — Johannes Contag

The World Premiere performances of Johannes Contag's score will be performed by Wellington's SMP Ensemble, conducted by Karlo Margetic.

Johannes Contag (b. 1972 in Freiburg/Germany) is a prolific Wellington-based composer and performer participating in a wide range of musical genres. As an orchestral composer, his best known major work is his 94-min live score for silent film The Crowd (1929), a ragtime-tinged composition for piano and chamber orchestra that was premiered at NZIFF in 2013.
In the past, Contag has also participated extensively in the pop and experimental music scene. His 1990s/2000s group Cloudboy established a productive relationship with the New Zealand Film Archive (now Nga Taonga) that culminated in a Creative NZ-funded tour of New Zealand and Europe to present "Shape of the Land" (2003), a collection of archival silent shorts accompanied by electroacoustic compositions and improvisations. More than a dozen performances were presented in Germany while the group based itself in Berlin.
As well as being a composer, Contag is also an academic. He has recently been accepted into a PhD in Literary Translation at Victoria University. Starting in the second half of 2016, he will be retranslating the short stories of Heinrich von Kleist to restore their syntactic idiosyncrasies to English-language readers.
Karlo Margetić (b.1987) holds degrees in composition and clarinet from the New Zealand School of Music. He is Composer in Residence with the Auckland Philharmonia Orchestra for the 2016 and 2017 seasons.
Karlo has been the recipient of numerous prizes, including the 2013 SOUNZ Contemporary Award (for 'Lightbox'), the NZSO/Todd Young Composer Award (2006). In 2013 he was a Composer Fellow at the Intimacy of Creativity Composition Workshop at the Hong Kong University of Science and Technology.
Karlo has received commissions and performances from a wide variety of soloists and groups including NZTrio, New Zealand String Quartet, STROMA, Michael Houstoun, Claire Edwardes, Auckland Philharmonia Orchestra, Auckland Chamber Orchestra, and Wellington Youth Orchestra. He was Composer-in-Residence with Orchestra Wellington in 2014, with the NZSO National Youth Orchestra in 2007 and was Young Composer-in-Residence with the Auckland Philharmonia Orchestra in 2007 and 2008. An active performer, Karlo is Co-Director of the SMP Ensemble, and has appeared with them as composer, clarinettist, conductor and narrator.

LIST OF PLAYERS / GATHERED HERE AS 'SMP ENSEMBLE'
Fiona McCabe – piano, Mitch McEwen – flute, piccolo, Debbie Rawson – clarinet, Tim Workman –clarinet, bass clarinet, Leni Mäckle – bassoon, Barrett Hocking (tbc) – trumpet, Salina Fisher – violin, Laura Barton – violin, Elyse Dalabakis – viola, Lucy Gijsbers – cello, Simon Eastwood – double bass, Hannah Neman – percussion, xylophone