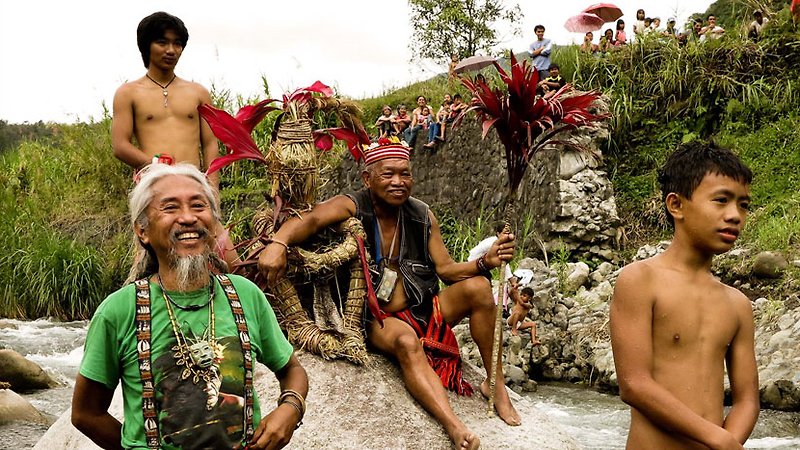 Balikbayan #1 Memories of Overdevelopment Redux III
2015
Andrew Langridge will moderate a Q+A with Kidlat Tahimik at the Friday screening.

This playful picaresque following the 16th-century adventures of a Filipino slave and a hunt for his modern-day counterpart marks a welcome return for one of the great unsung heroes of world cinema and a true pioneer of indigenous filmmaking. Kidlat Tahimik's decades-in-the-making new film has all the wit and vibrancy of his postcolonial classic Perfumed Nightmare (1977) and makes a perfect (re)introduction to this one-of-a-kind artist.
Portrayed by Tahimik himself, Enrique of Malacca was an indigenous slave who was taken to Europe in the 16th century. After spending time at the Spanish court, he travelled back to the Philippines around Cape Horn on Magellan's ill-fated expedition. This made Enrique, arguably, the first person to circumnavigate the globe, and the first-ever balikbayan (the Tagalog term for Filipinos who come home after having lived overseas).
Tahimik began shooting Enrique's story in 1980 and continued off and on for the best part of a decade, before family commitments took priority. Two years ago he decided it was time to return to the story. Instead of being constrained by the early footage, he has radically reimagined his vision by incorporating a contemporary, documentary-like narrative which finds a modern Magellan searching for a modern Enrique, now a shamanic woodcarver (played by Tahimik again). — MM
"A sui generis historical epic, the film freely mixes genres, integrates a variety of formats and features a carousel of actors spanning three generations – it may very well be Tahimik's magnum opus." — Giovanni Marchini Camia, Filmmaker