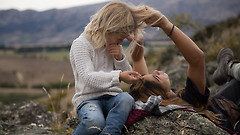 Jackie van Beek, currently tearing up the box office with The Breaker Upperers, can thank NZIFF for a great pair of Timberland boots.
My first feature film, The Inland Road, premiered at the Berlinale 2017. We of course celebrated in Germany with beer and schnitzel – my producer and I overjoyed by the fact that we had somehow managed to complete our film and were now watching it up on screen.
But the real nerves came on when waiting for a response to our submission to NZIFF. Don't get me wrong: we were extremely grateful to present our film in Berlin, but we were desperate to play it to the folks back home. And having made a one-million-dollar drama about the subtleties of human relationships, we were not counting on a theatrical release.
I remember the relief when my producer, Aaron, called me. I remember hanging up the phone and uttering variations of Thank Goodness as I let the news sink in. Having made a film in New Zealand with New Zealanders, I would've been heartbroken to not have had the chance to share it up on the big screen.
NZIFF toured the film and myself from Auckland through Wellington, Christchurch and onto Dunedin. I had some fantastic discussions at the Q+A sessions and even managed to squeeze in a bit of op shopping in each city between the intros and the Q+As. Got a great pair of Timberland boots in Dunedin actually.
I'm developing a new film at the moment. Bizarrely the idea came to me ten minutes before my NZIFF premiere. Maybe a couple of champagnes and a wildly beating heart is just the thing to trigger the next idea?!
Image: The Inland Road