Our First Film Announcements for 2019
Thursday 16 May 2019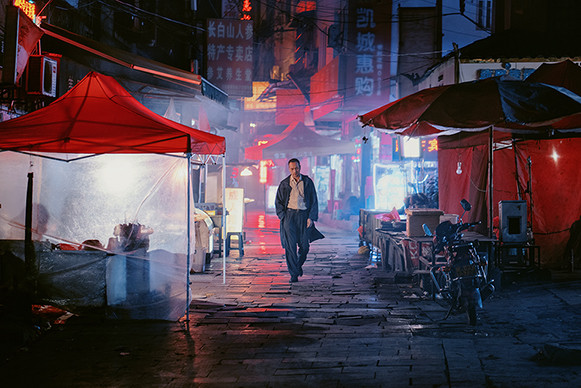 We are delighted to reveal the first five films from our highly anticipated 2019 programme, which will screen in Auckland from 18 July, and in Wellington from 26 July.
Our early announcement is a melange of styles and subjects. A 59-minute 3D tracking shot, a Southern California neo-noir, a space odyssey starring Robert Pattinson and Juliette Binoche, a Lord of the Files-style thriller from Colombia, and a deep dive into New Zealand's flourishing wine industry feature in the line-up.
"We're excited to finally announce our first titles for 2019. A Long Day's Journey into Night and Under the Silver Lake will make their long-awaited NZ premieres at NZIFF after premiering at Cannes last year. We'll also be presenting two of the most striking films from the past year, High Life and Monos, which premiered at Toronto and Sundance respectively, and the world premiere of David Nash's NZ wine documentary A Seat at the Table." — NZIFF Programme Manager Michael McDonnell.
We present our first five films for the 2019 programme:
High Life
A forbidding spaceship carrying death row inmates hurtles towards oblivion in Claire Denis's long-awaited, intensely hypnotic sci-fi opus. "Denis reorients the sci-fi genre around bodies, babies, and black holes in her masterfully mystifying event-horizon nightmare." — Jessica Kiang, Variety
Read more about High Life.
Long Day's Journey Into Night
Part film noir, part dreamscape, this oneiric love mystery – acclaimed for its hour-long 3D sequence shot in a mesmerising unbroken take – intoxicatingly captures romantic obsession in southern China. "A rapturous ride through the night that will knock you for a loop… [Long Day's Journey Into Night] brims with hallucinatory brilliance." — Peter Travers, Rolling Stone
Read more about Long Day's Journey Into Night.
Monos
Like Lord of the Flies by way of Yorgos Lanthimos, this bold, bizarro Sundance sensation takes the feral power struggles of youth gone wild to the misty mountains and lush jungles of Colombia. "Nothing short of an aesthete's dream; a film crammed with visual bravado that… echoes Kubrick, Malick, and Coppola's Apocalypse Now." — Rory O'Connor, Cinevue
Read more about Monos.
A Seat at the Table
Savour 100 minutes of eye-popping camera work, picturesque vineyards and gratuitous grape-fondling shots in this glorious toast to the talent and the stories behind New Zealand's world-famous wine industry. "If there's one thing I'd love audiences to come away with, it's a feeling that they have seen the definitive New Zealand wine story benchmarked against some of the greatest producers in the world." — David Nash
Read more about A Seat at the Table.
Under the Silver Lake
Deadbeat slacker Andrew Garfield delves into the labyrinthine mysteries of La La Land on the hunt for a missing girl in David Robert Mitchell's oddball neo-noir thriller. "A tasty neo-noir that wilfully melds tones and sensibilities with a playful seductiveness… Mitchell's movie is a surreal, stoned portrait of LA that doubles as an oddball mystery." — Tim Grierson, Screendaily
Read more about Under the Silver Lake.