Meet The Stars of Our 'At Home — Online' Campaign
Friday 3 July 2020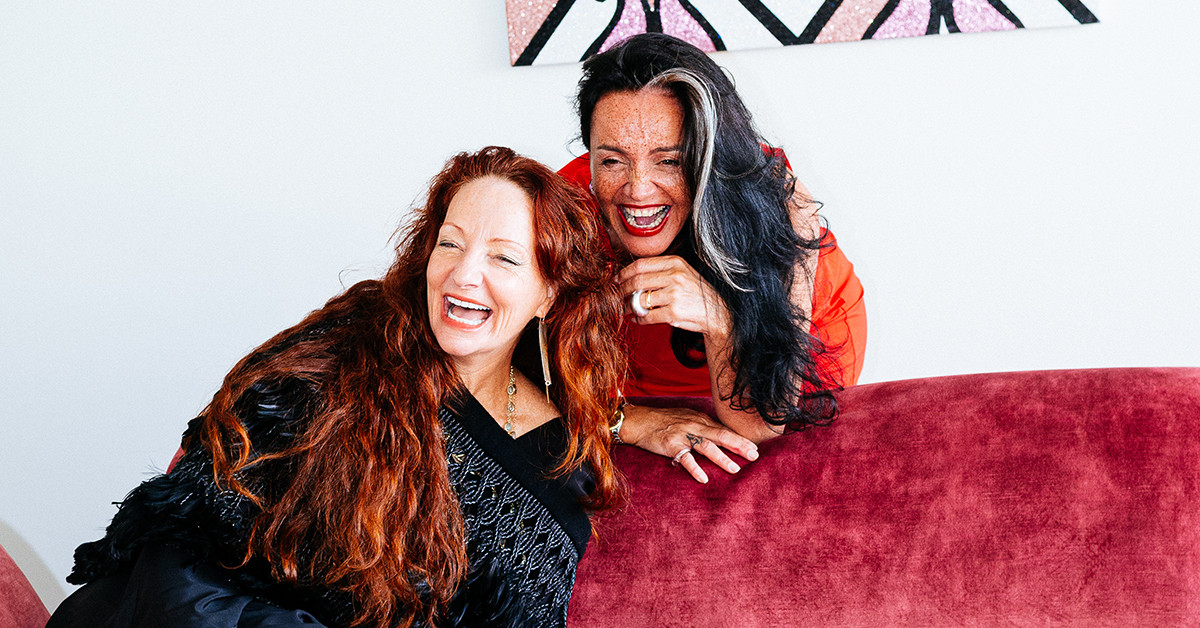 In a nationwide photo shoot, we photographed 16 film festival whānau in their own homes ready for NZIFF At Home — Online.
With family, with friends, in their slippers or glammed up... read the stories behind the faces of our film festival poster campaign (and watch out for the posters popping up on streets in your city or town).
Pietra Brettkelly and Joanna Paul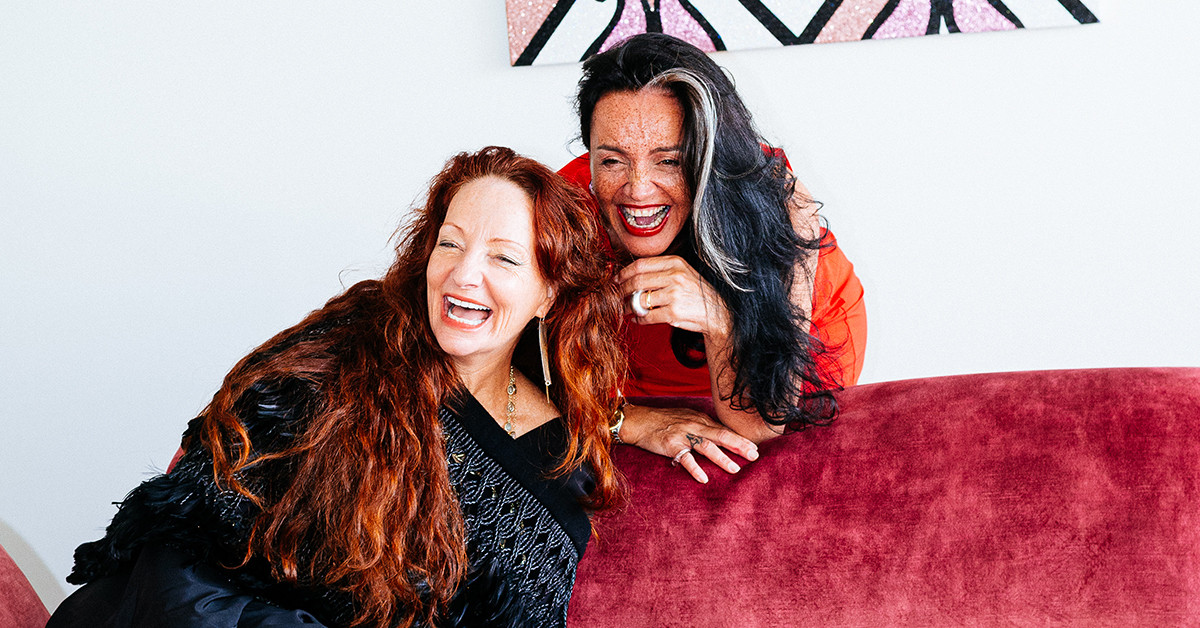 Pietra Brettkelly, Tāmaki Makaurau
Filmmaker and New Zealand Arts Laureate
Recipient of the 2019 Dame Gaylene Preston Award for Documentary Filmmakers
What does the New Zealand International Film Festival mean to you?
As a filmmaker the film festival has not only been this wonderful mid-year experience when I can wallow in the gorgeous films of other storytellers from around the world. But I've also received the most amazing support and encouragement from the film festival because my previous films including Yellow is Forbidden, A Flickering Truth and Māori Boy Genius have all screened at the festival. The festival has been my family and my home, in that I feel the warmth of arms that wrap around me and my films, but also allow me to expand my own awareness of storytelling through the films of those around the world who are taking risks and making films as well. NZIFF also makes me realise I'm not a crazy filmmaker because I take such huge risks with my films. And I'm not alone! I have had people say to me "You're mad. Oh my god, what are you doing now? Where are you going, to Afghanistan, Sudan, Libya, the troubled regions in the Amazon", into conflict areas interviewing people that others would think is too difficult and too much of a struggle. For me to see films of others as crazy and as driven as me, I feel such a connection with them. While I may never meet them in my lifetime, I feel I've met their brain, I feel I've met their creativity, I do feel I have met a piece of them. The Film Festival has given me that, such an education over the years. I didn't go to film school. That wasn't possible when I was leaving high school in Whakatane so for me the Film Festival has been my education and has shown me the possibilities of this amazing form that is film. I believe really strongly that we as filmmakers, provide a window into another world. And when I watch somebody else's film, not only do they sometimes give me a window but they've built a whole house for me to sit in.
Tell us about your film-watching set up at home.
While I have furniture, I love to just lie on the carpet. So I will be lying on the carpet, television on, with my friend Joanna (Paul from my photo) or another friend or whoever wants to join me. But I choose some challenging films, films that are all about what the Film Festival is, which is providing this huge wide expanse of experience from different corners of the world. I want to dive into the corners. I want to be challenged.
How does film-watching bring your whānau together?
I asked my friend Joanna Paul to be in the photo shoot with me because every year she and I go to films together. With Jo I can text her 10 minutes before a film is about to start and go "Oh my god, a film I've been hearing about is about to start. Let's rush down to it!".
One of the things I love about Jo is, because she is a storyteller and a filmmaker as well, she recognises it's an occasion. A filmmaker has ripped out their heart and given it to us because I know the struggles of making a film. Jo recognises this is something special, so she loves to dress up. She loves to have a glass of bubbles. So when we did the photoshoot, that's what we did, because we will continue to do that. Jo and I will get together and we will recreate the occasion that film is.
I've been studying te reo Māori and I really want it to be as active a part of my life as possible. I want to be part of New Zealand's future of a bicultural society. Jo and I have decided all our discussions about the film we've just watched are going to be in te reo Māori. I know I will struggle to express myself as I'm still studying. But we want to take that step. It's going to be this wonderful adventure. The lovely thing about watching at home is if we want to make comments during a film, we don't have to whisper to each other. We'll be able to just go to the kitchen and pour another glass of bubbles or get something to eat, but I will make sure I don't get diverted because I also want to respect the filmmaker and their heart that they've given me.
Because I have friends who are not in the film industry every year they ask "Okay, so tell me the great films to go to this year" and I do a bit of a list. And this year I'll do my list and will send it out, encouraging them watch these films at home.
When my niece and nephew were growing up I took them to films each year, until one year my young niece said "Does every film you choose have an animal in its name?"  It seems I'd taken her to the films Lamb (Ethiopian film), Rams (from Iceland), Project Nim (documentary about a chimp)…
Do you have any etiquette rules for people that want to join you when you are watching a film?
Yes, absolutely. They cannot discuss other stuff that isn't in the film. We are in this world of film. Not our own real worlds. We've got this amazing experience here. So it has to be full involvement, all in, boots and all.
When were you moved by a film for the first time? And which film affected you?
I grew up in Whakatane, a small town in the Eastern Bay of Plenty and I remember when I was in primary school we walked from school, in lines, in our school unifroms, to our local theatre. It was no doubt a religious film. Probably something like The Ten Commandments. I do remember we had to stand for the Queen, at the start of the film, which even then I thought was ridiculous. Today, the film I would say has been so powerful to me, the film I believe is perfect is a film called Ida. It's a Polish film I saw a few years ago at the Film Festival and it has stayed with me. It's such an amazing film on so many levels - the sound design, the director's choice of filming in black and white, the pacing, and that every frame was like a tableau. I was fortunate I went to a panel discussion of the filmmaker a couple of years ago at Cannes when he released his next film. I just think that film is just really truly exquisite. I love it on so many levels.