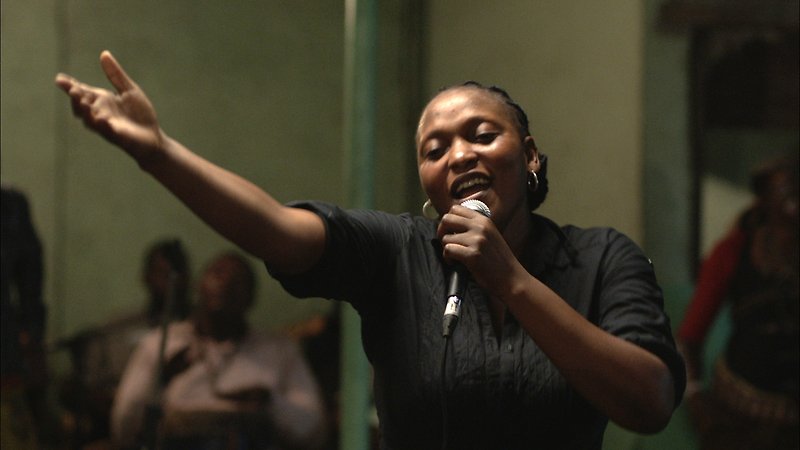 In this resonant tribute to fortitude under stress, Félicité (Véro Tshanda Beya) is a staunchly single woman who sings in a bar in Kinshasa. When her 14-year-old son is involved in a motorbike accident, the intervention of a persistent suitor may be her only hope of funding medical care.
"A loose, vibrant fourth feature film from Franco-Senegalese director Alain Gomis, Félicité... builds to a fever of energy and activity while never sketching out more than the bones of a narrative: It's a film in which a hard-earned smile, the contact between one person's skin and another's, or a serene strain of music amid the everyday noise can qualify as a dramatic event. Following a proudly independent club singer through the ragged streets of Kinshasa as she seeks a way to save her hospitalized son, Gomis' latest is far from the miserablist issue drama that synopsis portends, instead weaving a sensual, sometimes hopeful, sometimes disturbing urban tapestry withthreads of image, sound, poetry, and song...
In the title role, Congolese singer-turned-actress Véro Tshanda Beya proves entirely mesmerizing from the moment the camera alights on her strong-featured, deep-gazing face, sometimes shading entire histories of dismissal, disappointment, and ongoing resistance into a single expression...
The film's jangling, diverse musical soundtrack practically functions as a screenplay in itself, charting Félicité's shifting states of mind as it leaps from the Kasai Allstars' breathless modern fusion of indigenous and international rock to the sober grace of the Kinshasa Symphonic Orchestra's spin on Arvo Pärt." — Guy Lodge, Variety