Latest News
Six short films have been selected by Jane Campion as finalists for our annual New Zealand's Best Short Film Competition.
Finalists will compete for a total of four prizes, with winners to be announced at the closing night event of the Auckland leg of NZIFF.
The six finalists are Nancy From Now On (dir: Keely Meechan), Krystal (dir: Briar Grace-Smith), Egg Cup Requiem (dirs: Prisca Bouchet, Nick Mayow), Golden Boy (dir: Alex Plumb), Our Father (dir: Esther Mauga) and Hinekura (dir: Becs Arahanga).
"It was moving and invigorating to watch the 12 shortlisted short films and experience their energy, raw talent and the occasional truly sophisticated achievement" says Jane Campion.
Audiences at the New Zealand's Best screenings in Auckland and Wellington will be asked to vote for their favourite short. The Audience Award winner takes away a 25% share of the box office takings from the New Zealand's Best screenings in the four main centres. In 2018 this prize was valued at $4,800.
Madman Entertainment will again support the title award, the Madman Entertainment Best Short Film Award. The cash prize of $5,000 is donated by the Australasian distribution company. The winner will be chosen by a three-person jury appointed
Jane Campion, a New Zealand film veteran and recipient of prestigious film awards, has accepted our invitation to be Guest Selector for the New Zealand's Best short film competition.
Six shorts from Aotearoa will premiere in Auckland, Wellington, Dunedin and Christchurch, with audiences in Auckland and Wellington able to vote for their favourite short from Campion's shortlist. The role of Guest Selector has been filled most recently by filmmakers Leon Narbey (2018) and Gaylene Preston (2017).
Jane Campion, a celebrated Kiwi director, producer and screenwriter, holds the title of the only female director to be awarded the prestigious Palme d'Or at the Cannes Film Festival in 1993, as well as one of four women to be nominated for Best Director at the Academy Awards, in 1994 for The Piano. Having studied at the Australian Film Television and Radio School, Jane has gone on to win a plethora of awards and to direct a dazzling range of projects including her Palme d'Or-winning short film Peel (1982), The Portrait of a Lady (1996) and Bright Star (NZIFF09). She executive produced, co-wrote and co-directed Top of the Lake (2012), a lauded mini-series for the BBC and Sundance Channel. The second series, China Girl
After an international recruitment process that started in December 2018 the New Zealand Film Festival Trust board have confirmed Marten Rabarts (Ngāti Porou / Ngāpuhi), current head of EYE International in Amsterdam, will join the organisation as Film Festival Director – Kaiurungi from October 2019.

The NZIFF 2019 line-up is taking shape with significant input from Bill Gosden (who retired at the end of March after 40 years of service), and will be delivered by the existing NZIFF programming team which includes Programme Manager Michael McDonnell and Programmer Sandra Reid.

"As so many applicants noted, Bill Gosden left unique and large shoes to fill on his recent retirement after 40 years. From a richly skilled and talented field of applicants, it was such a pleasure to find Marten wished to return to New Zealand and take up the challenge to be the Film Festival Director – Kaiurungi. He brings a wealth of international experience in many aspects of film culture but has always remained firmly connected to his homeland. The NZFFT board were particularly impressed with his passion for creating international opportunities for homegrown talent and amplifying unique voices in cinema, across all his work in sales, production, development and marketing," says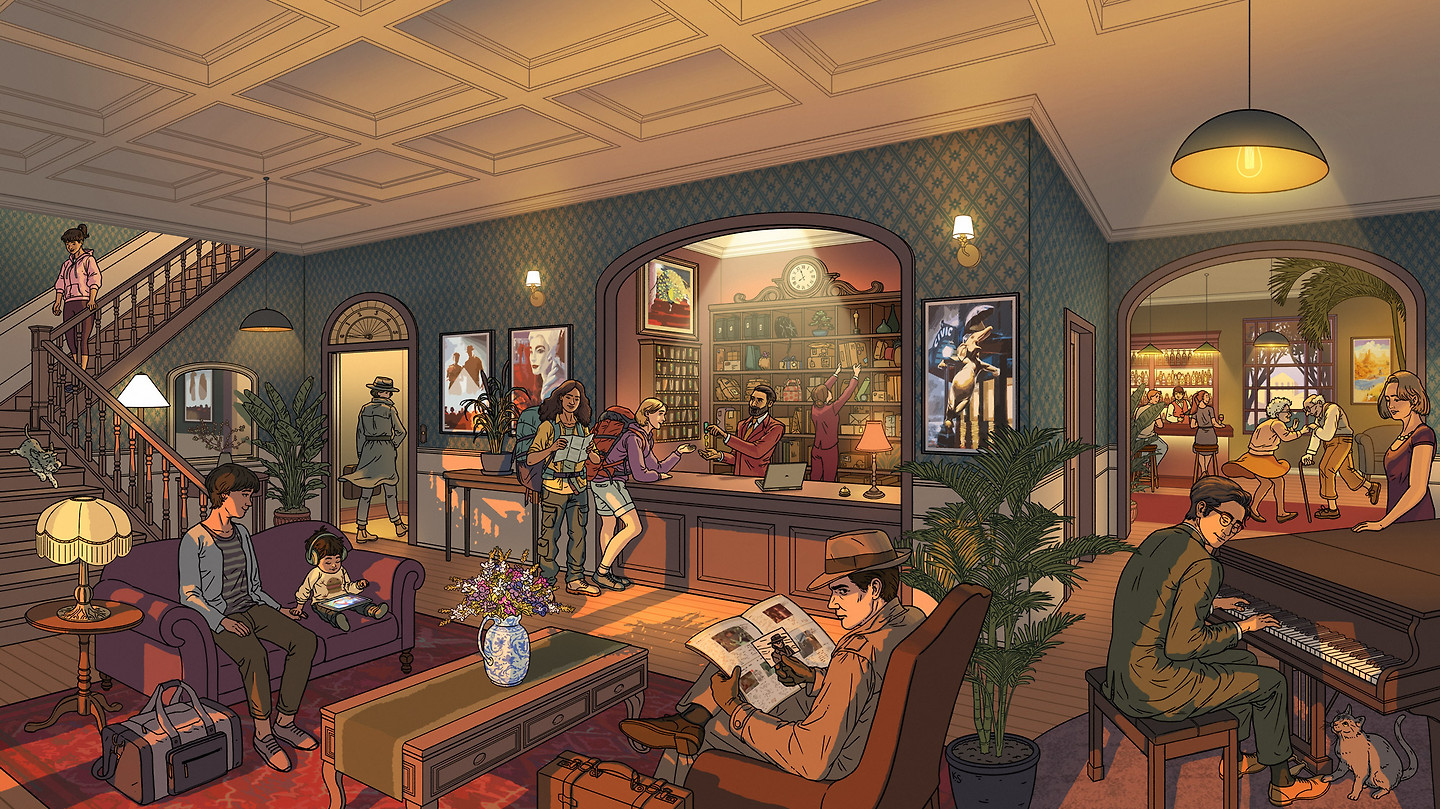 Join us with a cast of characters in the lobby of NZIFF 2019. Check-in, take a seat and settle in for programme updates from here on in. Many new worlds await and we're excited to reveal the first for 2019: our beautiful poster artwork designed by Ocean Design and illustrated by Ken Samonte. Ken returns for a second year as illustrator for the NZIFF poster and you may spot one or two returning characters from the 2018 florist scene. The artwork also represents Bill Gosden's final direction for us, overseeing the concept and revisions with his stellar eye and attention to detail. Thank you Bill.
"Ocean has enjoyed 30 years of true creative collaboration and partnership with Bill Gosden and his amazing team. With it being Bill's last festival as Director we wanted to create a truly memorable image. I think we saved our best for his last! The concept for this year's image drew on NZIFF-as-a-hotel metaphor that we have explored in previous posters, but this year, were able to envision and realise our most ambitious tableau thanks to the talent of illustrator Ken Samonte.
Working with Bill and the NZIFF has been an incredible ride, and we are
In December 2018 Bill Gosden, NZIFF Director, announced his retirement after 40 years of service. His retirement message is published here in full.
19 December 2018

Kia ora, te whānau
I am chiming into the December frenzy to let you know that later today we will be announcing my retirement as director of the New Zealand International Film Festival, effective from the end of March 2019. In case you never guessed, retirement at pension age (which I reached last month) has never been my goal. I have long avoided five-year plans, but if ever I had one it might have been to turn 70 before giving anyone else a shot at the job. Unfortunately, cancer is as indifferent to our little schemes as it is to the aspirations of medical science. After 18 months of sticking with my work through surgeries and treatment, I've been brought to this reluctant decision by the need for continuing treatment.
The patient support and understanding of NZIFF Trustees and staff have sustained me through the last year, while celebrating NZIFF's 50th year in Auckland provided me with a welcome focus. Best-ever attendances for our programme there (and across the country) see me leaving on