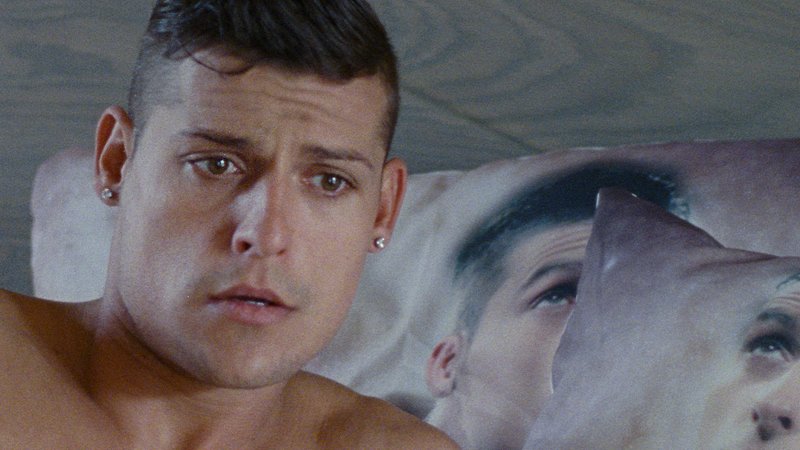 Gleefully trafficking in the ludicrous to satirise the vacuity of media-manufactured nationalism, Gabriel Abrantes and Daniel Schmidt's Diamantino is a heady mix of B-movie thrills, designer kitsch and gender-blind casting. It sails smoothly through multiple outrageous implausibilities thanks to the sweet comic ingenuity of Carloto Cotta, the heartthrob-handsome star of Tabu (NZIFF12). In a performance modelled, in appearance at least, on metrosexual football superstar Cristiano Ronaldo, he plays Diamantino, erstwhile champion of Portugal's honour on the soccer field.
When sinister forces hack into his hard drive, what awaits them is a cache of cute baby animal pics. He is their man: a super clean, sweet-natured blank slate fit to be genetically engineered to headline their EU exit campaign. Next move: send in a female spy disguised as an African refugee whom the sweet-natured Diamantino promptly adopts and smothers with love. That's not to mention the evil twin sisters who 'manage' Diamantino's career and income, or the media circus surrounding his every move.
"The pro-European Union lobby just got the silliest, sexiest cinematic endorsement it could hope for in Diamantino, and that's merely one of the surprises nested in Gabriel Abrantes and Daniel Schmidt's deranged satire – sure to remain the freshest blast of gonzo comic energy at this year's Cannes Film Festival. Part loopily queer sci-fi thriller, part faux-naive political rallying cry, glued together with candyfloss clouds of romantic reverie, it's a film best seen with as little forewarning as possible: To go in blind is to be carried along by its irrational tumble of events as blissfully and buoyantly as its empty-headed soccer-star protagonist...
Only in the up-is-down world of Diamantino could Donna Lewis's cream-cheese slab of mid-'90s dreampop 'I Love You Always Forever' briefly seem a soaring anthem of the heart. 'Love has reasons that even reason can't understand,' muses Diamantino in voiceover at one point; so does this lovably ludicrous film." — Guy Lodge, Variety