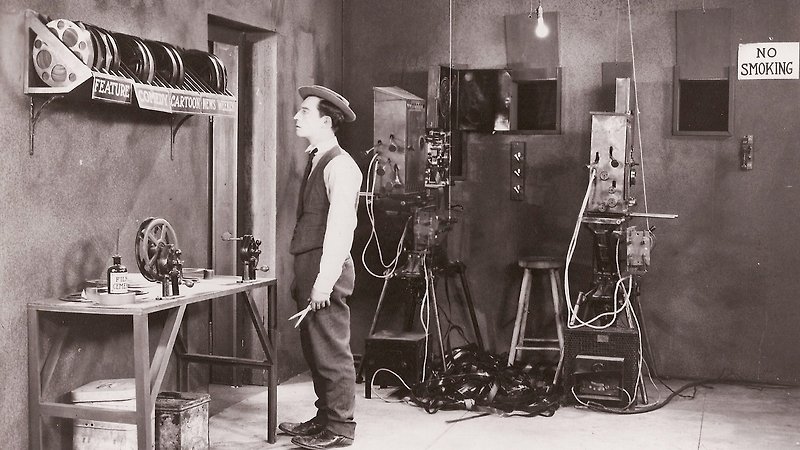 "Between 1914 and 1928, people laughed longer, louder and more often than at any other time in history. The reason why is that during those 14 extremely turbulent years around the world a group of comic geniuses did things on the movie screen that were more elaborately conceived for comedy, more brilliantly constructed for laughs, and, simply, funnier than anything ever done before or since." — Peter Bogdanovich
For the third successive year the Festival's long-standing, popular and much-cherished collaboration with the Auckland Philharmonia Orchestra is dedicated to the eternal comic wonder of the great silent clowns. This year we celebrate the most sublimely funny of them all, Buster Keaton, in two films of intoxicating inventiveness and lunatic technical virtuosity.
Sherlock Jr dazzled audiences in 1924 with gags that still leave audiences reeling 86 years later. Keaton's contemporaries were also amazed by his dextrous toying with a concept much less familiar then than it is now: he plays a projectionist who dreams of being a detective, and he dreams his detective persona literally into the movie that he's projecting, along with the girl he pines for and his underhand rival for her attention. (In a sight gag that perplexed experts for years he integrates a seamless passage of pratfalls with absolute precision into a swiftly changing series of movie backgrounds.)
The film's action climaxes in one of the most breathlessly funny and sustained chases in all cinema – but there's no one in pursuit. Buster perches on the handlebars of a runaway motorcycle, oblivious to the fact that he's lost his driver. Though intended to run to 70 minutes, Keaton tested the film repeatedly and cut it back and back – until he ended up with 45 minutes of perfection, a film that delivers more fun and thrills than most manage in three times as long.
We're supporting Sherlock Jr with a reprise screening of Keaton's One Week, a film routinely listed amongst the greatest short films of all time, in which Buster and his new bride attempt to erect a kit-set house.
Marc Taddei conducts Timothy Brock's scores for both films. A popular guest conductor throughout Australasia, Marc is currently Music Director of the Wellington Vector Orchestra. His Auckland Philharmonia Orchestra Live Cinema engagements include an exhilarating The Wind in 2006.
Timothy Brock is a leading interpreter and composer of orchestral music for 'silent' cinema, and has been a regular visitor to the Festival, most recently conducting his restoration of Charlie Chaplin's score for The Gold Rush in 2009. His Keaton scores have been commissioned by the Los Angeles Chamber Orchestra. His score for One Week, an astounding whirligig of sound, premiered at our Live Cinema presentation in 2004.
"As much as a composer wants to be funny too, he cannot, for it simply kills the image in the classic case of 'too many cooks'. Instead, the music should have, at least on the surface, the appearance of simplicity with the occasional outburst of complexity and force." — Timothy Brock