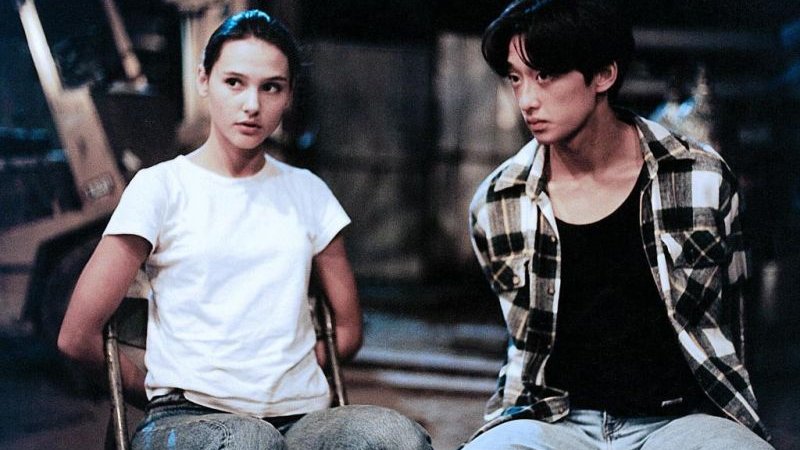 Yang's vicious satire of modern Taiwan's criminal underworld and business overworld (can you spot the difference?) may be his most divided and divisive film, gleefully mixing cultures (French, English, American, Chinese) and moods (comic, touching, ironic, horrific). A young French girl travels to Taipei in search of the priggish British architect who dumped her. One good turn starts her descent into a twilight world of petty criminals, con-men, kidnappers and killers.
Taking the experimental comedy of A Confucian Confusion into even more fraught and contradictory areas, the pace and tone of the film is breezy even when the subject matter is at its most bitter or bleak. Yang's films had always been heroically unsentimental, but Mahjong is almost nihilistic. Its view of human nature is so dim, or grim, that even the film's most sympathetic character, Virginie Ledoyen's vulnerable Marthe, has ignoble motives.
Alert viewers can spot characters from Mahjong occupying the background of Yang's subsequent film Yi Yi. — AL
"Mahjong is Yang's angriest and most provocative film, and also probably the one that's elicited the most anger from viewers, especially in the West. . . It's been widely criticized for something I like most about it – the inclusion of French, English, and American characters. . . What's valuable about these characters is the fresh and fascinating insights they provide into how Westerners – and westernization – might be regarded from a Taiwanese perspective. If this viewpoint strikes us as odd and oblique, I'm sure that's no less the case when Asians see Asian characters in Western films. Acting styles in Western and Asian filmmaking are clearly not the same, and beyond this difference lies a collision of cultural identities close to the center of Yang's frenzied maelstrom.
Alternating between the abrasive and the poignant, the sad and the terrifying, Mahjong offers a demonic tour of modern life that culminates in one of the most shocking, dramatically powerful murders I've ever witnessed in a film. This scene of forces spinning out of control virtually defines Yang's dark sense of the present historical moment, even if he chooses to go beyond it and end on an unexpected grace note of tenderness and repose." — Jonathan Rosenbaum, Chicago Reader