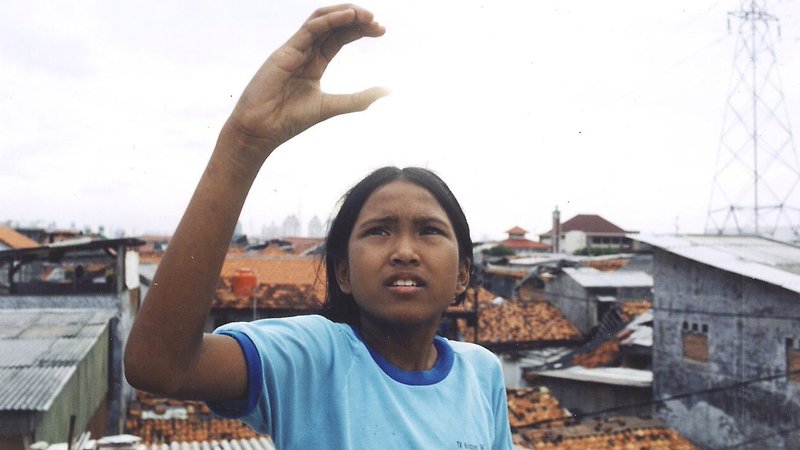 Grandma Rumidja shares her Jakarta hovel with her son Bakhti and granddaughter Tari. Life in the capital is a constant struggle, and Rumidja is pining for her country home in Kalimiru. When Bakhti converts to Islam for the sake of marriage, this seems to be the last straw for his Catholic mother: she takes the plunge and returns home.
From its spectacular opening train shots to the conventional shot/reverse shot of its conversations, Shape of the Moon doesn't look like your typical documentary. Much of the film is very artfully photographed – there's even a motif of fake moons (the mouths of tunnels and wells, the skin of a drum) running through it – and there are further indications that reality has at times been reorganised for the camera's convenience. But there's always a trade-off, and for the price of a degree of spontaneity, director/cinematographer Leonard Retel Helmrich delivers some spectacular footage, including stunning landscapes and memorable house-moving sequences.
The central narrative and its characters are engaging enough, but the real interest lies in the margins of the film. We get a sidelong portrait of the Indonesian capital as both a metaphorical and literal tinderbox. Religion is the volatile fuel for much of the frantic activity we observe: marriage negotiations, mass prayers for Palestine and Afghanistan, mass protests against the USA.
As a Christian, our protagonist has become something of an outsider in her own country. The Dutch film crew, of course, can readily identify with that sense of isolation, and many of the urban scenes exhibit a subtle anthropomorphism, as a market is seen from the perspective of a goose in a sack, or we share a cat's eye view of Jakarta traffic. The animals of Indonesia play a significant role in the structure of the film, but it's a vision of nature red in tooth and claw, with cocks fighting, rams ramming, geckos grappling and even ants attacking one another. Helmrich seems to be using the natural world to make overt the conflict and opposition (religious, generational, urban/rural) that lies beneath the surface of the human story. — Andrew Langridge