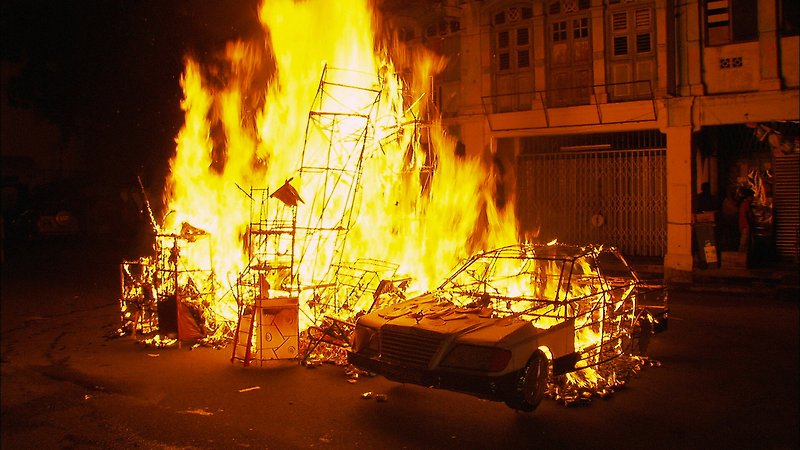 Mana - Beyond Belief
2004
Stunningly shot on HD video, this lively world tour of venerated objects and the human activity surrounding them opens in unmistakeably New Zealand native bush, while an unmistakeably New Zealand voice-over defines mana: 'any object or person with true mana can become a gateway to great knowledge of the spiritual and physical world'.
From then on, there is little talk, for director Peter Friedman and anthropologist Roger Manley prefer a collage of images and fleeting encounters with cultures or individuals and their objects of devotion: a Native American and a quartz crystal; Japanese getting soused at the cherry blossom festival, seemingly oblivious to the stand of beautiful trees in glorious bloom across the way; Buddhas basking in neon lights or a virtual Lord Ganesha floating across a computer screen; tuna at Japanese fish markets; the preserved hand of Edgar Allan Poe; Hitler's finger; Graceland visitors and Elvis clones. Sometimes the sacred objects are explained to us and sometimes they are not. Visits to the Shroud of Turin must be highly regulated in order to accommodate the flocks. Recorded voices in different languages ask people to switch off mobile phones and not to use flashbulbs, and invite them to enjoy 'this spiritual journey'. A few minutes of contemplation later, the voice commands them to move to the exit so the next horde can come in…
Then there is the case of The Man With the Golden Helmet. This Rembrandt masterpiece had pride of place in a Berlin museum, displayed apart, flanked by velvet curtains. It became a place of pilgrimage. Naturally, as happens with icons, the image also soon decked plates, became a knitting pattern, a brandy label. Until, after meticulous research, it was revealed that it wasn't a Rembrandt after all. Now the painting hangs in a corner – it's a 'nice picture, but the aura has gone' and no one cares, although it's still the same painting as before.
Friedman and Manley mix the serious events with the whimsical with no suggestion of hierarchy. Although the film's glide-by nature is reminiscent of the -qatsi films, it is more refined than those pummelling excursions, exuding a gentle, curious wit. — Sandra Reid