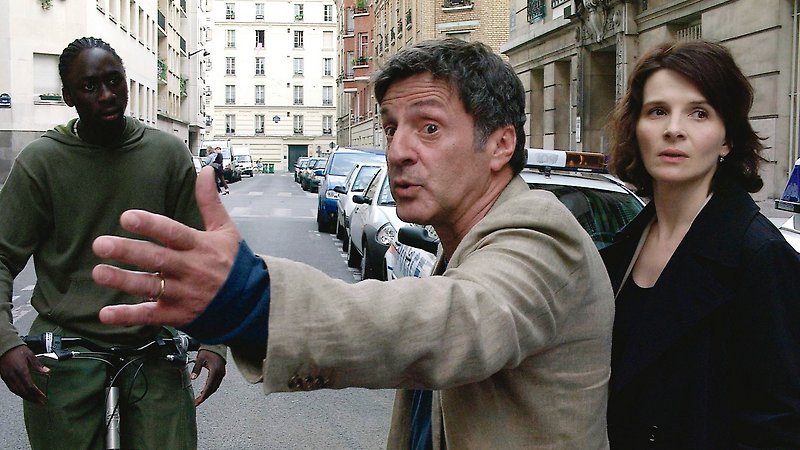 The films of Michael Haneke are, directly or indirectly, all studies of the age in which we find ourselves surrounded by screens, forever watching and/or being watched – tales cautioning of the ease with which human beings can be converted into soulless blips of infotainment , transmitted over mysterious airwaves. His latest, Hidden, begins with a rewinding of what we first assume to be 'live' image. A long, uninterrupted shot of the comings and goings of a residential Paris street is revealed to be a surveillance video trained on the home of Georges, the host of a televised book-review program; his publisher wife, Anne; and their 12-year-old son, Pierrot. The tape has been recovered by Anne from the front doorstep, in an ordinary plastic bag bearing no trace of its sender, save for a crude crayon drawing of what appears to be a small child with a bloody red triangle emerging from his mouth. And like Godard, Haneke has never been one to differentiate between red and blood.
There will be more videotapes and more such drawings over the course of Hidden, collectively forming a breadcrumb trail that leads Georges back to his family estate and to a long-dormant memory concerning his childhood acquaintanceship with an Algerian boy named Majid. Just what happened between Georges and Majid back then, and whether it has any bearing on Georges' present dilemma, are two mysteries Hidden holds close to the vest well into its running time.
But if Haneke has sewn Hidden into the skin of a thriller – leading many industry pundits at this year's Cannes Film Festival to label it the director's most 'accessible' film – he's no more interested in telling us whodunit than he is in knowing the answer himself. For the videotapes rattling Georges from his placid bourgeois existence aren't so much one man's nightmare made manifest as they are the embodiment of a collective guilt, of all the inhumanties to which we turn a blind eye – be it a childhood secret wished away, a dark-skinned stranger passed on the street or France itself in the long shadow cast by Algeria.
'There's a pun in German that I'm not sure works in English,' Haneke said in a 2001 interview. '"Television is there to switch off," meaning not only switching off the machine itself, but switching off your own mind.' But in Hidden, television – and, by extension, our entire culture of images – is the thing that can't be turned off. It shows up on your doorstep. It invades your dreams. And ultimately, it is the thing that exhumes a truth that has heretofore remained hidden. — Scott Foundas