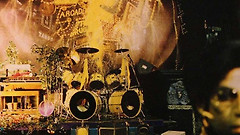 Auckland broadcaster Wallace Chapman recalls two formative NZIFF experiences from his Otago days.
I saw Michael Moore's Roger & Me in 1990 at the International Film Festival in Dunedin. It was the first feature-length doco I had seen at a film festival and it struck me that here was a completely new way to tell stories.
Michael Moore used humour and populist journalism to highlight how his home town of Flint Michigan was being decimated by massive layoffs at General Motors. He goes on a dogged mission to try and confront the man who he believes is at the heart of the ruination of Flint – the CEO of General, and the OTHER Roger – Roger Smith.
This wasn't of course the first ever documentary, but Roger & Me, heralded something very new; that a doco could be as compelling and as entertaining as a film, and that a mainstream audience wouldn't be turned off by the fact that it's 'just a doco'. Whether or not you agree with the filmmaker's politics, Roger & Me was truly ahead of its time, and you can see its impact decades later in the way compelling true stories are told on vehicles like Netflix.
And it reinforces an old adage – there is nothing more fascinating than a true story well told. The fact that young filmmakers these days are starting to prefer the documentary form owe much to people like Michael Moore.
Sign O' the Times was a concert film by Prince – It screened at the Film Festival in 1988.
There had been great concert films prior to this, of course – Led Zeppelin's The Song Remains the Same, and Stop Making Sense by Talking Heads to name two. But Sign O' the Times was something else. The explosive energy of Prince and his band just burst across the screen, and in the full auditorium in Dunedin, the energy was infectious. This was late 80s Dunedin, so all the members of those seminal Dunedin bands were present.
I can recall people coming out at half time going – 'fuck what have I just seen.' It was psychedelic, it burst forth with an amalgam of funk, soul, jazz and sex. And unlike most concert films – the energy never flagged once. At that packed Festival screening there was this collective sense that we were witnessing a rare artist at the very height of his power. And it captured the best drum solo of all time – by one Sheila E.
Image: Sign O' the Times