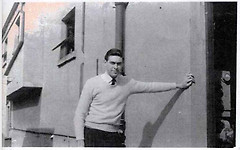 Sir Bob Harvey, a long-time friend to NZIFF in Auckland, recalls the perils of foreign film exhibition back before the Festival hit the screen.
"I was an assistant projectionist in the 1950s at The St James Theatre, Embassy and Playhouse. I was based at the St James which was a classy theatre, maybe the best in New Zealand for sound and picture throw. I was always keen to earn extra money so I was farmed out to help at the Playhouse in France Street, formerly the old Prince Edward, later The Mercury. R J Kerridge wanted it to be an arthouse and so it started to show foreign films with short runs. They were Russian classics, French and Italian arthouse black-and-white gems. The problem was they were all on nitrate stock, deadly for the projectionist with the danger of combustion. If the top spool got a flame, good night nurse.
The senior projectionist there I thought was bloody mad. To make things worse he had made a huge double spool for the two projectors: it saved changing reels. He was American and had never used flammable film. One Friday morning a Russian fantasy epic Sadko (1953) broke at a join and the film in the gate caught fire. The flame raced up the film in a second into his double spool, about 1000 feet of flammable film, and created a massive explosion. The shutters came down so the small audience did not panic as the roof of the box blew out and fell in to the street below. I was taking the last feature tins of film down the back stairs and I remember the whole theatre shaking.
He didn't have time to turn the house lights on so the patrons all raced out into the street. The projection room was ablaze, black smoke billowed up the street. The projectionist who I thought was a real danger to life – he had tried to electrocute me a week before as a joke – was taken off in the ambulance. Later he would drive his wife and mother-in-law off the wharf, drowning them both. He died in jail.
But interesting films had arrived and later they would be shown at The Lido as they drew an audience keen to see what was on offer other than the US and British Films from the two chains. I was always wary of the explosive nature of foreign films which still turned up into the 1960s. I would check all the film splicers every day. Soon they disappeared and were replaced by Safety film marked down the side of every reel. The Playhouse never recovered. It did shows and B grade films, was closed and became a live theatre, the Mercury. Once the assistant projectionist, I was later the Deputy Chair of the company."
Image: St James assistant projectionist Bob Harvey ca. 1958