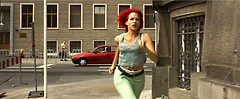 Thirty years a film reviewer, Nicholas Reid saw too many great films at the Festival to pick favourites. He names a few rather good ones anyway.
I became a film reviewer in 1974 when I was still a university student and signed off exactly thirty years later in 2004. This involved ten years on the old Auckland Star, various shorter gigs on Radio NZ, television and the Woman's Weekly, and finally ten years on the glossy North and South
I'd grown up in a film-literate household and was used to seeing and enjoying films that had subtitles and came from places other than Hollywood or Elstree. As a kid, I'd already joined my father in guffawing at the comedies of Jacques Tati, been enthralled by the Soviet version of Don Quixote and ached in horror at Wajda's grim story of Polish wartime resistance Kanal. So when I was a reviewer, I always regarded the Film Festival as a godsend. I would spend two weeks pigging out on the best world cinema had to offer, taking a welcome break from the commercial mainstream that dominated Queen Street.
There were too many good films to be able to pick out favourites, so these memories are random. In the mid-1970s, the cool analytical style of Werner Herzog's The Mystery of Kaspar Hauser, with it angsty questioning of the human condition. In the early 1980s, Kurosawa's epic Kagemusha, in my view his best. In the 1990s Jocelyn Moorhouse's tense Australian domestic drama Proof. And if this sounds rather grim, I also remember lighter gems like the German Tom Tykwer's frantically comic action piece Run Lola Run and that sublimely silly Russian film about a layabout, Oblomov.
Let's admit there was a devious side to my festival-going in the years I was a film reviewer. I would always frantically scribble notes in the dark to stock up on material for reviews in the months to come. The festival fortnight saved me from having to review a lot of blander non-festival films.
Let's also admit that occasionally it could get to be a bit much. I remember, one Saturday, sitting through four features one after the other, getting a headache, and handing over to somebody waiting in a queue the tickets I had for a fifth (late-night) screening.
But the occasional overdose was a small price to pay for the Festival.
Image: Run Lola Run