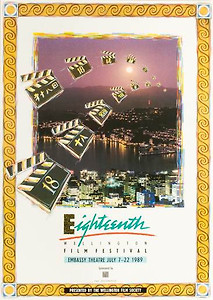 I first dated my husband at the Festival, he asked me to a movie. It was about 1989. My father was a film historian but I had pretty plain taste. Stuart took me to a screening at the Festival of Kieslowski's A Short Film About Killing. It was a revelation.
Fast-forward to 1998. We were at a screening of Nil By Mouth directed by Gary Oldman, at the Embassy. I had been working in prisons and it was the type of social realist film I was interested in. Suddenly I fainted. Weird. I went out the foyer for a glass of water. Came back in to see Ray Winstone kick Kathy Burke down some stairs – and I fainted again. I was pregnant with our first child and my days of watching hard-hitting films about violence were numbered.
Fast-forward again to 2009 and the Embassy screening of Jane Campion's Bright Star. This was a film I was lucky enough to have worked on in London as an acting coach, preparing Edie Martin for her role. It was amazing to sit in the Embassy and watch this beautiful film unfurl.
And in the middle of these film-watching experiences Stuart's film For Good was invited to be part of the Festival, screening at the Paramount. Made on the NZFC low-budget scheme it then took us around the globe, from selection at Montreal and a Best Actress award for Michelle Langstone at the St Tropez Festival to competition at the Paris Film Festival.
The NZ Film Festival has threaded its way through my whole life, introducing me to new thoughts and ways of thinking every single year.
Happy Birthday NZ Film Festival Trust!
from Miranda Harcourt