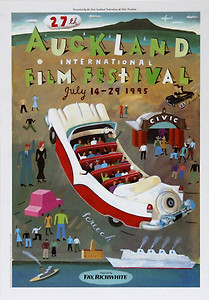 Veteran reviewer and feature writer Mark Knowles recalls a time when merchant bankers Fay, Richwhite sponsored the Auckland International Film Festival.
"Once upon a time in a land, alas, too far away. One balmy night in July 1995 there was a party given to rival the prelude of a screening and drinks before at the Mighty Civic. Just getting to that unique jewel on Queen Street, which was the private party venue, was an adventure in itself. The sight of men in tuxedo and women in their best black sequinned gowns made a fascinating contrast to the tawdriness of the country's main street. The tux and the gowns won.
Now we enter the party itself. High in the building, but not in the penthouse, champagne flowed and the 'nibbles' were just the best that money, much money, could buy. There was great conversation to be heard in all directions, amongst the familiar and unfamiliar. Finally, the venue itself made the most indelible contribution to the swell party it was."
Image: 27th Auckland International Film Festival poster, 1995