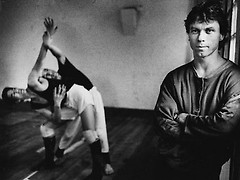 Leanne Pooley, whose Haunting Douglas premiered at NZIFF in 2003, compares her roles in contrasting exercises in inter-cultural understanding in Tokyo and Auckland.
"When I was at a film festival in Tokyo with The Topp Twins: Untouchable Girls, I noticed during the press interviews that journalists were staring at my neck. Finally I asked my interpreter, 'Do they think I'm a man?' (They were looking for an Adam's Apple.) She responded, 'Well, we were wondering!' It seems because my film had gay themes and because I'm a woman of 5'10" they assumed I was trans.
I've been lucky enough to host visiting filmmakers from around the world while they're here for NZIFF. I've taken them to Piha, to the rugby, on a wine tour of Waiheke. I feel so lucky to be able to show Auckland off to wonderful creative people who become lifelong friends. One of them was so overcome by New Zealand he proposed to his girlfriend while at Anawhata (a few years ago and they're still together)."
Image: Haunting Douglas