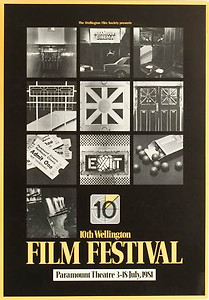 Having arrived to live in Wellington in 1972 I suppose I could say I've measured my time here by the passing of film festivals. Consequently, for me it will always be the Wellington Film Festival. I'd been exposed previously to Lindsay's enthusiasms through the Film Societies but the arrival of the Festival took their brief to another level altogether – to expose local audiences to films from overseas they wouldn't otherwise get to see; such are the ironies of these things they are now busy exposing local audiences to New Zealand films they wouldn't otherwise see.
I haven't missed a festival and one year attempted to see everything. Dredging back, so much comes to mind; from Truffaut's prescient heart, Stephane Audran's cold cuts, Huston's transcendent Fat City farewell, the sly humility of The Invitation, the girl descending stairs to open Cria Cuervos, Cyril Cussack hiding the Poitin in the cold lake, the child gangster still suckling in Pixote, to Norman Kay's beautiful flowers and that's just in the first decade.
And sometimes memorable events off screen – men of the Greek community stomping out during Angelopoulos's Travelling Players and Les Blank slyly grilling garlic up the back as we drooled at his Stinking Roses.
So congratulations and happy birthday to Bill and his team for a thousand treasured memories presented with style and mischief – who else would dare couple Babette's Feast with Bad Taste.
Always struggling for funds, perhaps you could market a new game - Festival Trivial Pursuits – heres a starter – which NZ Festival film has a credit for Tim Bevan?
from John Reid