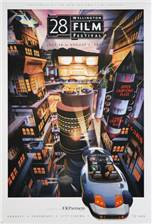 1999. The film festival arrived in the middle of my first year living and working in Wellington and just before we all started planning millennium parties and worry about Y2K and the end of computers. For me this festival was about the guilty pleasure of bunking off work, disappearing into a mid-morning movie, blinking in the daylight afterwards and sneaking back to my office. I couldn't possibly approve of it now, and becoming a sponsor was the only way to legitimise such aberrant behaviour.
from James Every-Palmer
Russell McVeagh, sponsors since 2002.