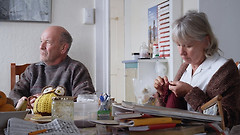 ­Hamish Bennett's Ross & Beth won the jury prize for best New Zealand short film, as well as the audience and cinematography awards, at NZIFF04. Hamish takes time out from post-production on his feature Northland to recall some life-enhancing moments at The Civic and SKYCITY Theatre.
I'm indebted to the NZIFF for providing me with many special memories over the years, including:
Watching Looking for Eric with my then partner/now wife at The Civic in 2009. The lovely company and cinema obviously played a part, but I remember the overall experience was a very special one. I don't think I'd seen a Ken Loach film before, but the combination of humility, empathy, humour and poignancy ticked all the boxes. It's a film and an experience that has stayed with me.
Watching our first short film, The Dump, at SKYCITY Theatre in 2012, as part of Ngā Whanaunga Māori Pasifika Shorts. Another special experience, seeing our little film up there on the big screen. My good mate, producer and co-star in The Dump, Orlando Stewart, had a very different experience – seeing his performance on such a big screen, and in such high clarity, apparently made him nauseous. Bearing this in mind, I've made a point of not casting him in anything we've made since then. It's for his own good.
Watching our second short film, Ross & Beth, at a full SKYCITY Theatre in 2014 as part of the New Zealand's Best selection. Just having the opportunity to share our film with a big audience, full of whanau and friends, was such a privilege and is a memory I'll always treasure.
Ngā mihi nui to Bill and the team at NZIFF, and congratulations on all that you've achieved – I'm making my bookings for this year's screenings as we speak...
Image: Ross & Beth