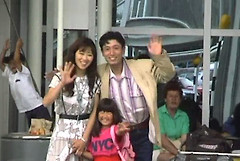 Filmmaker Gregory King recalls rejection and acceptance from NZIFF programmers.
A brief anecdote about the first film I ever made, POP in 1999. POP was rejected [by guest programmers the Moving Image Centre] from the 'Best of' New Zealand shorts line up that year.
Bill Gosden, however, saw POP and decided to programme it for the Festival before a feature, so it got to travel through the main centres. That was my first Festival experience, and it was just awesome to have my first filmmaking effort up on the big screen in front of a large local audience.
It gave me a huge shot of confidence and helped me gain support for my next project.
Validating Bill's selection in the face of its rejection from the New Zealand Shorts selection, POP went on to win one of the main awards, Best Video production, at the Melbourne International Film Festival, which was open to international shorts and features.
Image: POP