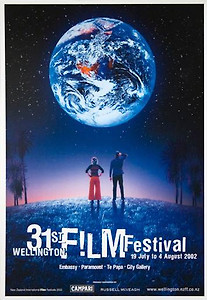 Who would have thought.....
During the mid-1970s, I was asked to deliver a letter from the Embassy Theatre to the Wellington Film Festival office in Courtenay Place. Here I would find a pleasant young man, in a little office, sitting at his desk, behind a pile of papers. Yes, who would have thought that several years later I would be employed as Wellington Film Festival Manager by this same "pleasant young man", now Director of NZ Federation of Film Societies, Bill Gosden.
My early introduction to the Wellington Film Festival was to find space and arrange facilities for the successful operation of the Festival Booking Office. This was an enormous challenge I enjoyed each year. With manual stamping of seat checks, organising roll tickets, arranging staff, setting up the area with the help of the Booking Office Manager, Michelle O'Donnell, in preparation for the opening. Continuous queues of patrons booking tickets during the entire season, was an exciting part of the Festival Booking Office. Then came the introduction of computerised ticketing and this booking office was then part of Film Festival history.
For me, there were many highlights during my years of management, especially working with the wonderful staff, but to single out any one highlight from the many experienced, it would have to be the honour of meeting film Directors, Producers and Writers who have accompanied and introduced their film to the Festival patrons of Wellington.
But, along with the excitement, there were also those moments of stress! In particular, I think back to those moments when film dispatches and tight transfers between venues, were my greatest fear. Normally, should the rare occasion arise, an error in labelling or a reel missing was quickly realised. But I recall vividly "the one that got away"! Reels received from a previous screening were incorrectly numbered. Shock, horror!! The entire film was shown out of sequence creating much confusion with patrons. This mishap even made the national newspapers. Yes, it may have provided free publicity, but it was one of those most embarrassing moments of Festival-time.
And then there was the emergency dash back to collect a missing reel of film from the Paramount to deliver to the National Library for a screening which had already started. All part of the job.
The nine years employed in this role hold some of my most pleasant memories and since those memorable days, and even though I reluctantly resigned as Festival Manager, the need to be part of the Wellington Film Festival still remains, so-be-it in a much lesser role. Like many others who have been involved in this event over the years, it becomes part of you.
40 years!!!
My congratulations go to Bill Gosden and his team, to the many sponsors, the Wellington Film Society members, to venue and booking office management and staff, I thank you for providing 40 years of dedication and service to, and successfully entertaining, the people of Wellington. For me, it has been a wonderful experience.
from Denise Liddle
Wellington Film Festival Manager
1994-2002