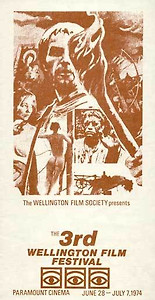 Wellington Film Festival Memories
The documentation for the 1st Wellington Film Festival, Forty Years ago, consists of the brochure listing the seven programmed films, with descriptions and screening details – sessions at 2.00, 5.15 and 8.15pm. That was supplemented by two cycostyled foolscap sheets with extra information and other notices. The first sheet detailed a couple of extra weekend morning sessions, including the only New Zealand screening of Walerian Borowczyk's Blanche, which came directly from the Sydney Film Festival.
The 2nd WFS, and the first I was involved with, didn't fare much better. But the number of films increased to 12.
By the time of the third festival I decided that there should be a Souvenir Programme. I had settled in to doing Sequence by this time and had convinced the film society committee that they should invest in an IBM golf ball typewriter. With this I typed up Sequence on A4 guide-lined paper, attached printer-ready screened illustrations, then took them in to the plate-makers where each page was reduced to A5 and made up and sent to Roberts Printing Company for off-set printing and assembly. So I was ready to tackle a Souvenir Programmme. The film society minutes record that I was going to prepare a 16 page booklet, but not the fact that I had to convince the committee that it was a good idea.. Come the festival, and committee members on the information desk were charged with selling the programmes at 20 cents each to patrons going in. That is where we realised we had a problem. We had used the same design as that used on the brochure, and although the brochure was printed in a brown ink and the souvenir programme was simply in black and white, many people turned down the opportunity to own a souvenir programme – saying, "No Thanks. I've got one of those."
Luckily, that didn't put the committee off, and the Souvenir Programmes continued. I did them for the next four years, until the 7th Film Festival which had 41 films. The time required was becoming too much for a voluntary worker. The Festival office then took over the task, and did so until as recently as 2007, when it was decided to cease publishing them. And they are sorely missed. I have the complete set in my collection.
By David Lindsay