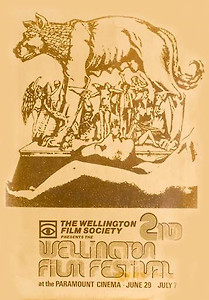 It is hard to believe that 40 years have passed since Lindsay Shelton, the Film Society with Merv and I launched the inaugural Film Festival at the Paramount. The initial event comprised of seven films over seven days with three sessions daily. Every year thereafter it grew in length & volume & popularity.
We reached the stage where I was obliged to put aside six weeks each year to handle the mail bookings and the Box Office. Fortunately I devised an almost foolproof system to process all reservations as during one of the busiest periods we sustained a burglary where all the cheques where stolen. Major panic ensued as we contacted all patrons to cancel their cheques and re-issue. The booking sheets were untouched so order was restored and everyone was accommodated.
My fondest memories of the 13 years of involvement are the people I met and connected with. Sadly quite a few of these are no longer with us.
There are many more memories, a lot of laughs, at times minor hysteria, and most nights a glass or two of wine to relax after the evening session was under way.
from Carol Kisby