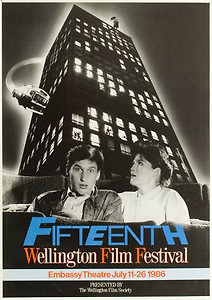 Congratulations to the NZIFF on reaching 40! As a fellow 40-something, I suppose I share a particular kinship with the Wellington festival, yet as I eagerly peruse the contents of this year's 40th anniversary program, the irony is not lost when for the first time I find myself having to hold the said publication at a bothersome distance. "Welcome to middle age," I says to us both.
Yet it seems that the aging process is integral to one's relationship with the festival - it's often a question of taste. Luckily, the Festival is rich and grown up enough to cater for whatever phase we're going through.
My 'formative' film festival experience was perhaps marked by the near-midnight Embassy screening of Re-Animator in 1986, a film which still remains the benchmark splatter-comedy, wildly successful local efforts notwithstanding. Since then I've had an abiding curiosity in the late show, though it's for reasons other than the ebbing away of my youthful stamina that I these days would rather see a film at 10am than 10pm.
Esoteric, pointy-headed documentaries are especially nourishing at this time of the day, and the longer running time the better, just as one can savour the prolonged satisfaction of the most indulgent brunch on the menu - the one with sausage, mushroom, tomato and hash brown on the side.
It's not like I'm fully abandoning the late night shocks of the zeitgeist. I just like to think that my (failing) sight is set a little higher than on all that "cinema of the groin", if only a little higher. That's where I'll find the reliably glorious cinema of the belly.
by Andrew Armitage