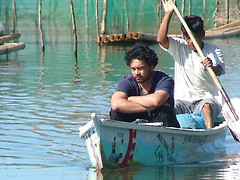 Alyx Duncan is the director of The Red House (NZIFF 2012) and winner in 2015 of the Madman Entertainment Jury Prize for her short film The Tide Keeper. She relates two unexpected consequences of NZIFF attendance.
"1. Last year I was to coordinate the Q+A following Shirley Horrocks' film Free Theatre. I was seven months pregnant at the time. I'm not sure if it was the celebratory atmosphere, the film's vibrant sound score, or my public speaking nerves, but during the screening my baby got increasingly excited. Just before the film ended he turned himself upside-down into breach position. Thankfully he turned back a few days later, but I was careful to relax through my other Festival screenings.
2. The Film Festival is always a good reason to suspend whatever work is in progress to disappear into someone else's imagination and a foreign landscape. That's true even when a deadline looms. And the longer the film, the less time there is to procrastinate afterwards. An example of this is the evening I attended Lav Diaz's four hour plus Norte, the End of History with a Film Commission proposal due at 9.00 am the next day. The film reminded me of life's fragility and inspired me to write through the night."
Image: Norte, the End of History