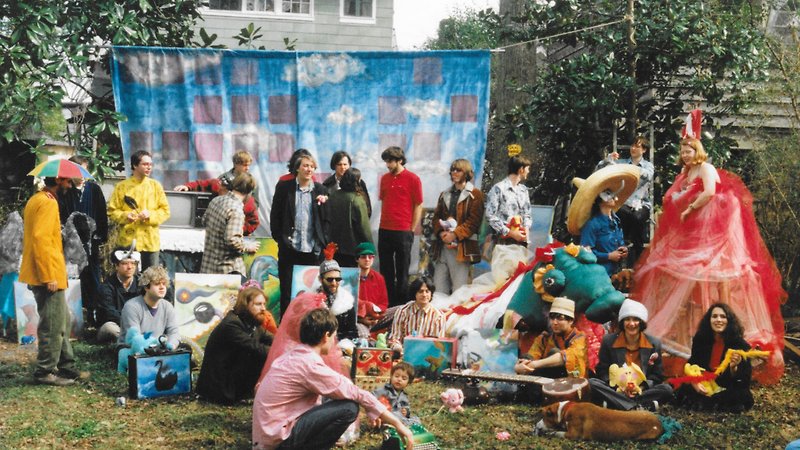 The Elephant 6 Recording Co.
2023
The Elephant 6 bands drew on a common love of Beatle-esque melody, analogue recording techniques and psychedelic collage. Early on in this spirited and sympathetic documentary, one interviewee, asked whether he can think of another scene that comes close, answers with a firm "Absolutely not." But audiences in New Zealand may be reminded of this country's own legendary Flying Nun label, another do-it-yourself enterprise, which similarly combined pop sensibilities with experimental ones and flourished in apparent isolation.
With the sprawling nature of the collective and large number of interviewees – engagingly nerdish hipsters now approaching middle-age – it becomes hard to keep track of who did what in which band, especially as the group line-ups frequently overlap. But there are four essential figures without whom there would be no story: The Apples in Stereo founder Robert Schneider, who proves to be one of the liveliest speakers; Bill Doss and Will Cullen Hart of the Olivia Tremor Control; and Neutral Milk Hotel front man Jeff Mangum, who gave the collective its greatest hit before retreating from public view. In a film refreshingly free of celebrity cameos, the appearance of Elijah Wald is justified: he is clearly just another geeky fan.
Director C.B. Stockfleth collages visual media in much the same way the Elephant 6 bands collaged sound. VHS tape, old stills and home movie footage are combined with intimate interviews to tell the story of a community defined by strong artistic and personal bonds, though not without its tensions or its tragedies. — Nick Bollinger