La La for Venice
Wednesday 12 October 2016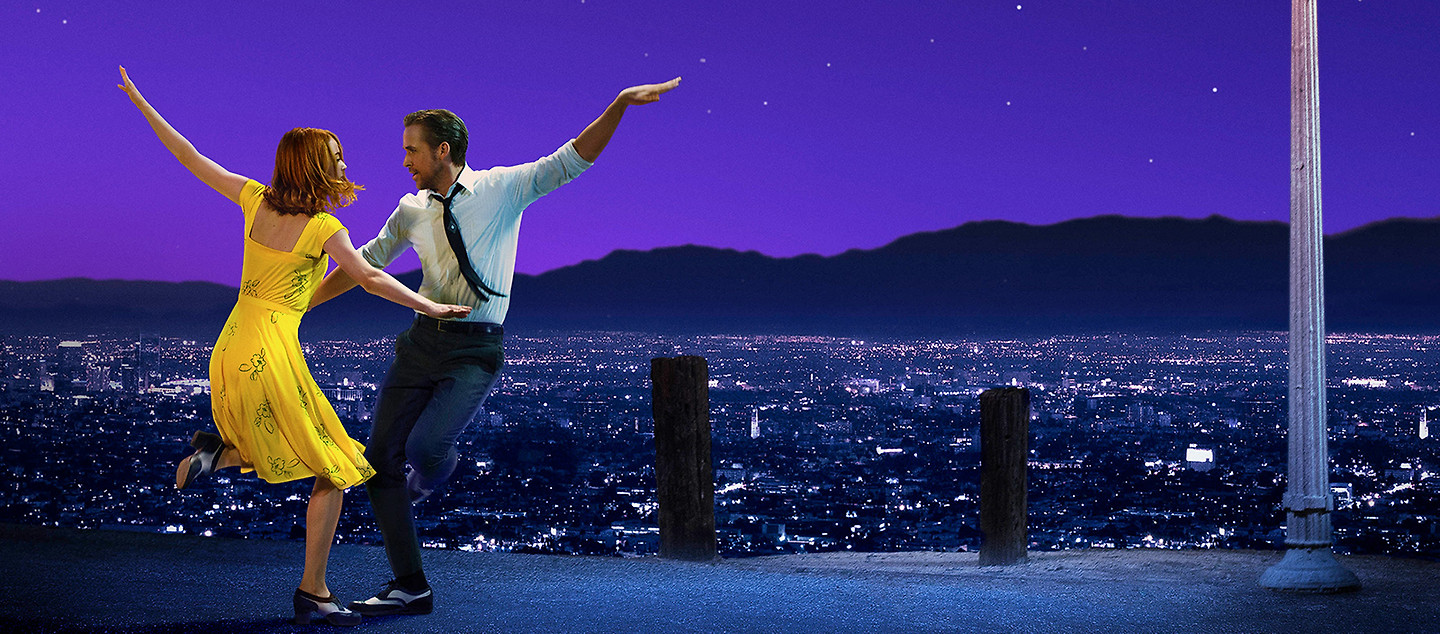 I had to sprint to make the plane, but it was worth a little sweat to get to the world's most insanely beautiful city at the end of August for the 73rd edition of the world's longest running Film Festival. Little over a week after introducing the Closing Night screening of Elle in Dunedin I was taking my seat for the perfect Opening Night film in Venice.
A big screen musical that's determinedly contemporary while seamlessly sampling many Hollywood classics, La La Land is a bittersweet valentine to showbiz dreams. Its opening blast, with a cast of thousands bounding about a traffic-jammed LA flyover, threatens overkill. Happily the initial overload ends as suddenly as it began, give or take the odd subsequent mega-orchestral intrusion.
The true pleasures are in smaller things, not least the sinuous long takes that give the choreography full frame. Emma Stone, as a wannabe actress and Ryan Gosling as an earnestly retro jazz pianist, seem perfectly in character when they sing and dance; he lightly and warily, she much less guarded. Though writer/director Damien Chazelle has eschewed the macho clamour of his earlier Whiplash, he once more puts the artistry of his male lead at the centre of his musical universe. Regardless, for all Ryan Gosling's panache at the keyboard it was Emma Stone left Venice with maximum audience love and official acting honours.
Natalie Portman had been widely tipped for the same award playing Jackie Kennedy in Pablo Larrain's startlingly good Jackie. Cut like a multi-faceted diamond, and I suspect just as durable, this densely packed and constantly surprising portrait of America's most glamorous (until Michelle) and inscrutable First Lady pays particular attention to the week following the assassination. No aficionado of media, politics or 60s style should miss this film, definitely my top candidate for Venice's Lion.
Outside Cannes the chances of seeing multiple great films are limited at any festival that insists on screening only world premieres. I did walk out on a couple of shockers. That said, there's something inherently rewarding about attending an event that so blithely puts art, or the hope of it, ahead of business and is so ideally situated to celebrate movies in style. Toronto Film Festival industry screenings are notorious: buyers barge and stumble in and out of the screenings and the messaging never stops. Try that at a Venice industry screening and a suited cinema attendant may train his laser about your unworthy features. Though the filmgoing is serious, the environment is relaxed. The festival campus, lively night and day, encompasses swathes of lawns with sheltering trees, not to mention the public spaces in the grand old Hotel Excelsior and numerous casual beachside cafes.
Lining up outside in a blazing heatwave for daytime screenings at the Casino, where many of the retrospective titles were scheduled, was the only significant discomfit involved. But why complain? There was always the opportunity to sit in the cool comfort and luminous opulence of the Sala Grande to see new work by the very filmmakers most festivals would consign to their smallest rooms. In Safari Ulrich Siedl, Austria's persistent observer of the graceless, trains his chill eye on his compatriots holidaying in Namibia. They stalk buffalo, zebra and giraffe, line them up in their telescopic sights, shoot them, pose for photos, then supervise the local help as they skin the carcasses for the trophy walls back home. In Austerlitz Sergei Loznitsa (The Event), surely the world's foremost documentarian of crowds, watches wave after wave of tourists traipsing through former Nazi extermination camps, posing for selfies alongside the machinery of genocide.
You take your seat for these movies and emerge 90 minutes later wondering how to process the horrors of the world. Jackie suggests how one woman may have gone about it, but neither of the latter filmmakers is offering to hold our hands if we try to figure it out. Having been granted one of the world's most glorious screening venues from which to challenge us, they stand tall in the front circle of the Sala Grande to acknowledge the audience at film's end. European cinephiles, young and old, rise from their seats to applaud and shout bravo. (A few had fled the flayings of Safari. The admiration for Loznitsa ran longer and deeper.) Then we line up for coffee and retire to the lawn or a seat under a beach umbrella by the sparkling sea to talk our way out of the darkness.
Soon there will be samba gently pulsing from the tannoys. A party atmosphere is stirring and a crowd assembling to ambush Jake Gyllenhaal and Amy Adams with selfie adoration as they rove the red carpet en route to Tom Ford's Nocturnal Animals. It's a lurid, trickily structured revenge fantasy with Jake in two roles. We're safely back in movie world where human atrocity is played for thrills and chills. We can wander along the canal back to our hotel, content to exchange the banal assessments the film affords: its framing device is a stretch, its art-world satire broad in the extreme, but its suspense is nerve-shredding, and Jake is buff.
Viva Venezia. Attending a film festival never felt more like a privilege and less like work – Bill Gosden, October 2016.