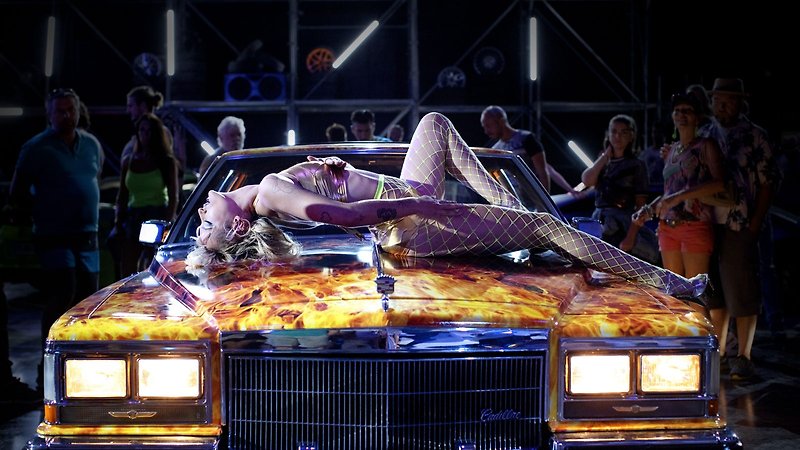 We are thrilled to close the Festival with the shock 2021 Palme d'Or winner...
Wild, outrageous, unruly, hallucinatory, body/machine-modification-run-amok, masterful, cartoonish, genre- and gender-bending Titane was awarded the 2021 Palme d'Or, only the second time in Cannes Film Festival history that a woman director has received the accolade (28 years after Jane Campion's The Piano).
It was probably also the first time that a so-called "genre" film, especially one that ups the ante to such a degree in "horror" movie stakes, scooped the top award. Julia Ducournau brazenly smashes the mould with this twisty tale about Alexia (a thoroughly committed performance from Agathe Rousselle), an erotic dancer with a peculiar penchant for muscle cars, who also happens to be a serial killer when the random urge takes her, or people pests provoke retaliation. When a murder goes awry, Alexia must go on the run, and her path leads her to a fire station populated with hunky young firemen and their steroid-consuming aging chief (a stunning turn from Vincent Lindon). Prone to doubts about his masculinity, he's also grieving for Adrien, a teenage son who disappeared years earlier. Alexia, binding down her breasts and her burgeoning, unwanted pregnancy sired by a Cadillac, becomes an improbable Adrien... — Sandra Reid
"Titane... is roughly seven horror movies plus one bizarrely tender parent-child romance soldered into one machine and painted all over with flames: it's so replete with startling ideas, suggestive ellipses, transgressive reversals and preposterous propositions that it ought to be a godforsaken mess. But while God has almost certainly forsaken this movie, He wouldn't have been much needed around it anyway. Ducournau's filmmaking is as pure as her themes are profane: to add insult to the very many injuries inflicted throughout, Titane is gorgeous to look at, to listen to, to obsess over, and fetishize.
Nodding to Cronenberg (Crash) and anime and Claire Denis (there's Beau Travail [NZIFF 2021] in the many men-with-men dancing scenes, and there's a little High Life [NZIFF 2019]) fuckbox in the car-intercourse scenes) and Holy Motors [NZIFF 2012] and Nicolas Winding Refn (if he had the stones), Titane is bold in its reference points, no-holds-barred in its approach to some of the hottest-button issues of the day, and brash – and often very funny – in its deliciously grisly and inventive image-making. But underneath the broad strokes... there is deft, detailed filmmaking at work too. A living-room dance turns into a fight and back again with every motion edged in menace. A scarcely glimpsed figure in a firefight casts doubt on a decades-long tale of grief. And the faintest ghost of an incipient mustache growing in on an upper lip contains a multitude of knotty, transformative implications about gender and physiology and new flesh living anew." — Jessica Kiang, The Playlist