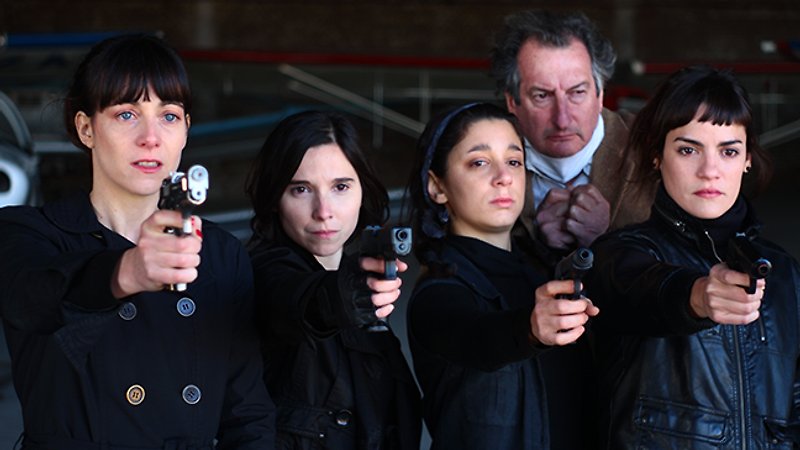 At the beginning of this unparalleled movie event, director Mariano Llinás, looking exactly like a man who's spent the last ten years of his life completing a film, explains to the camera what we're about to witness. Six episodes – some without endings – and a multitude of genres, languages and destinations swirl around four actresses, who are on screen from start to finish. Llinás sounds eternally grateful – and a little apologetic – for their unerring devotion to his mad project, making it clear that La Flor is by and for these talented women.
In the consistently surprising 14 hours that follow, a cursed mummy attacks a team of scientists, an estranged musical couple reunite to record another hit ballad, a secret society schemes over the elixir of youth, and an outfit of secret agents awaits a showdown with rival assassins. Later, we meet a filmmaker who's obsessed with shooting trees, and there's even a silent black-and-white remake of Renoir's A Day in the Country in the mix.
Easily the longest film this festival has ever programmed, Llinás' follow-up to the brilliant Extraordinary Stories (NZIFF08) may also be one of the most playful we've ever seen – too playful for the realms of mass-produced modern television, to which it bears no comparison. With its offbeat creativity and reinvention of cinematic clichés – often refocused through the gaze of Llinás' wonderful female troupe – La Flor figures movie-making, when liberated from both feature film duration norms and long-form narrative expectations, as a kind of giant artistic and storytelling sandpit. A marvel. — Tim Wong

Episode III
Four legendary female spies must kidnap a scientist, but not before confronting their deadly adversaries. Circling back to the origin stories of each spy and crossing several continents and historical flashpoints in the process (including an encounter with Margaret Thatcher), this lengthy and enthralling Cold War thriller plays with the conventions of Quentin Tarantino movies.