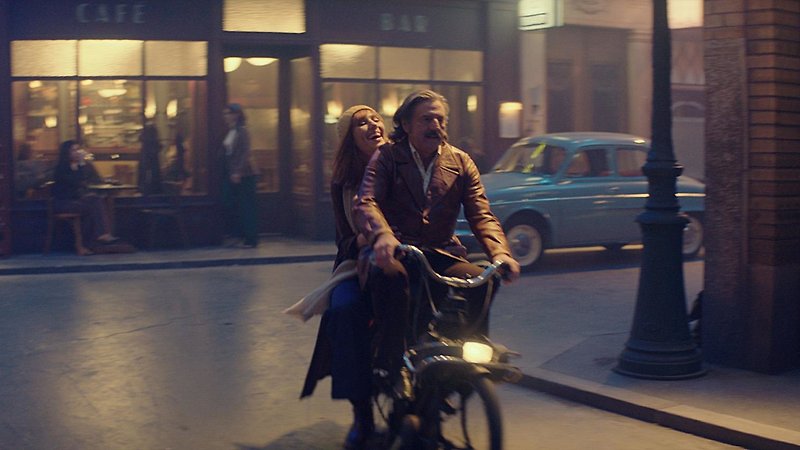 The perfect film to open NZIFF 2019 is also perfect for first dates, 40th anniversaries and solo filmgoers alike. La Belle Époque is that rarest of treats: a certified crowd-pleaser that cinephiles can shamelessly enjoy.
A 21st century riff on second chances at first love, La Belle Époque takes a giant conceit – an agency can grant you the chance to play the lead role in any point in history, with full cast and costume on an authentic set – and focuses on a sad, aging cartoonist (Daniel Auteuil, in a late career peak) who's feuding with his VR-obsessed wife (Fanny Ardant, equally terrific). Instead of drinking with Hemingway or fighting Nazis, he chooses to return to the happiest day of his life: 40 years prior, when a beautiful woman walked into a cafe...
La Belle Époque premiered out of competition at Cannes this year. Perhaps that designation led press to overlook what seemed at a glance to be a forgettable crowd-pleasing comedy. They got 'crowd-pleasing' right, but in the stunningly assured hands of director Nicolas Bedos, this charming mix of The Game, The Truman Show and After Life commands respect, jumping effortlessly and assuredly across timelines with tight scripting and clever editing while coaxing winning performances from its cast (also featuring Non-Fiction's Guillaume Canet as the perfectionist director and Doria Tillier as Canet's star actress).
In a year where three other French films took home prizes from Cannes, the omission of La Belle Époque from competition feels less like a slight and more like Gallic hospitality: it would have been rude to add such a sure-fire hit into the mix. — Doug Dillaman