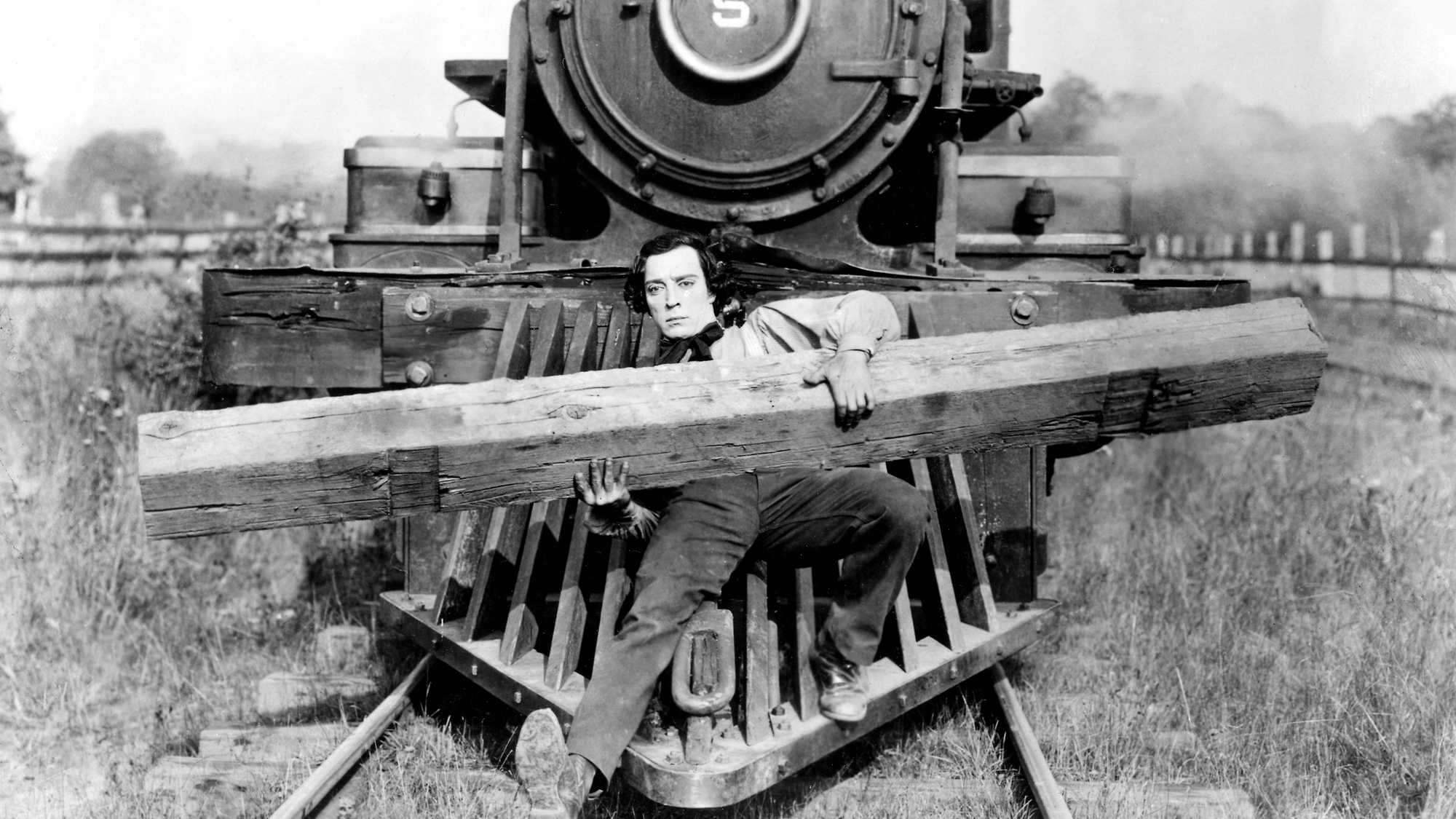 For NZIFF's 19th collaboration with the Auckland Philharmonia Orchestra, we return to one of the wonders of the movie world in as beautiful a presentation as that world has ever seen. This stunning new 4K restoration of The General, preserved by the Library of Congress, restored by Modern Videofilm and supervised by the Cohen Collection, provides the perfect excuse to screen this film for (only) the third time in NZIFF's history. Peter Scholes conducts Carl Davis' classic score.
Many critics consider The General to be the last great comedy of the silent era. It consistently ranks as one of the greatest comedies of all time in international polls. The title refers to Keaton's engine, 'The General', which figures prominently in one of the most harrowing and hilarious chase scenes ever filmed. Keaton portrays the engineer Johnnie Gray, who is rejected by the Confederate Army and then suffers the further humiliation of his girlfriend thinking him a coward. When a small band of Union soldiers penetrate far beyond Confederate lines to steal his locomotive, Johnnie Gray sets off in hot pursuit.
"The General is unique and perhaps perfect. In form and method it is like no other comedy, not even another Keaton picture. Here, uniquely, the dramatic action and the comic business are one and interdependent. You never feel that the story is simply an excuse for the comedy, or that the gags are a decoration planted on the story.
In The General, however, it is less the gags you remember than the image of the lonely, brave, beautiful, foolish little figure in relentless pursuit of the two things which he loves most and which have been stolen away from him. His relationship to both is passionate and touching. When he is carried off on the driving-bar he has become a part of his machine. And his relationship with Marion Mack is beautiful." — David Robinson, Buster Keaton

Conductor Peter Scholes has a long association with film scoring. He was composer and conductor for the New Zealand feature film Desperate Remedies by Peter Wells and Stuart Main, and also conducted the soundtrack to Heavenly Creatures. He was founder (1999) and is currently musical director of the Auckland Chamber orchestra, which he conducted in our first ever orchestral Live Cinema, Erich von Stroheim's The Wedding March at the St James Theatre in 1999. He has conducted all the professional New Zealand Orchestras as well as the London Philharmonic Orchestra, the London Symphony Orchestra, the London Orion Orchestra and the Prague Symphony Orchestra.

Music for silent films has been an enduring strand of the prolific Carl Davis' activities. His 1980 score for Abel Gance's Napoléon triggered an extraordinary revival of interest in silent film, and his oeuvre of more than 50 scores for this medium, including Flesh and the Devil, Ben-Hur, The Thief of Baghdad, Greed, Intolerance and The General, has brought him international acclaim.