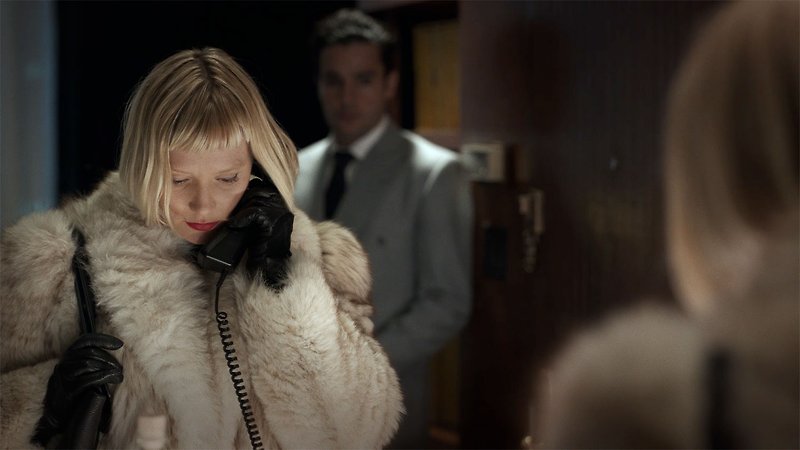 Gorgeously adapted from the novel by iconic Japanese writer Murakami Ryu, Piercing centres on handsome Reed (Christopher Abbott), a husband and father afflicted by a troubling preoccupation to impale his baby with an ice pick…
Okay, stop right there. I realise that many may want to skip ahead, but please don't. This is a black comedy. Very black and very grisly, with a brilliantly sustained comedic provocation that lasts right up until its sumptuous blood-drenched climax.
Following Nicolas Pesce's stunning debut film The Eyes of My Mother, this psycho-sexual two-hander begins with Reed miming his dark impulses – a funny scene of rehearsal where he acts out every meticulous movement in a planned murder. However, his target, call girl Jackie (Mia Wasikowska), turns out to be much more of a willing participant in his sadistic fetishism than he ever bargained for.
Pesce dresses the luridness in a showy style, like an off-kilter hipster installation replete with reality-smashing miniatures, aural (Argento) and visual (De Palma) retro-aestheticism, and the starkly erotic interior design of euro-thrillers. Cast in coolly contrasting monochromatics and richly sensual reds, this exquisite array of sanguine B-movie thrills comes from über-on-point collective BorderLine Films, whose mandate of supporting original voices has produced such modern classics as Afterschool, Simon Killer and Martha Marcy May Marlene. It's all executed by a director with a deep knowledge of cinema, an idiosyncratic vision and an outstanding collection of ice picks, bondage gear, ropes, razorblades and flesh-eating beetles. — AT