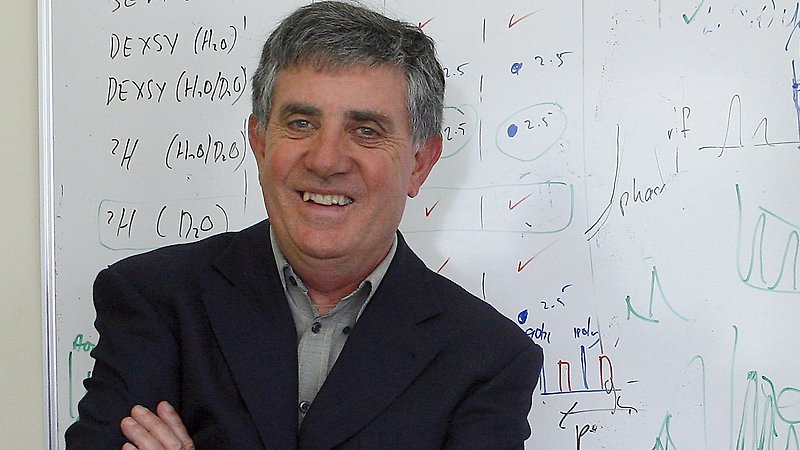 Paul Callaghan: Dancing with Atoms
2018
The Tuesday 24 July screening is a special fundraiser presentation with the proceeds going to the Cancer Society of NZ. Ticket details can be found on the Ticket Pricing page.
Shirley Horrocks will present her film in person at its NZIFF screenings.
Sir Paul Callaghan, physicist, science communicator, entrepreneur and 2011 New Zealander of the year, died in 2012, of cancer, when he was in his prime. As well as doing research into nuclear magnetic resonance, he was writing books, giving public lectures and sharing his vision of a prosperous and predator-free New Zealand – "a place," he said, "where talent wants to live."
Shirley Horrocks, who met Callaghan while making her 2012 film Venus: A Quest, focuses here on his life in science. Through big brother Jim, classmates, colleagues and Callaghan himself – in a series of interviews filmed in 2010 – we journey from Callaghan's childhood in Whanganui, to his work at Massey University, then to Victoria University of Wellington and the MacDiarmid Institute for Advanced Materials and Nanotechnology. There are dramatisations of schoolboy high jinks and footage from Callaghan's trips to Antarctica.
Callaghan's life, and the film, takes a turn after his move to Wellington, where he applied himself beyond physics to art–science collaborations, economics and conservation. "Suddenly it became OK for scientists to work with artists," says physicist Shaun Hendy about his former mentor. Poet Bill Manhire, cartoonist Dylan Horrocks, broadcaster Kim Hill and Weta Workshop's Richard Taylor are among those who describe how Callaghan expanded the conversation between science and wider society and rallied people to his causes, many of which continue after his death.
Anyone who knew Paul, or was affected by his work, will want to see this tribute. — Rebecca Priestley