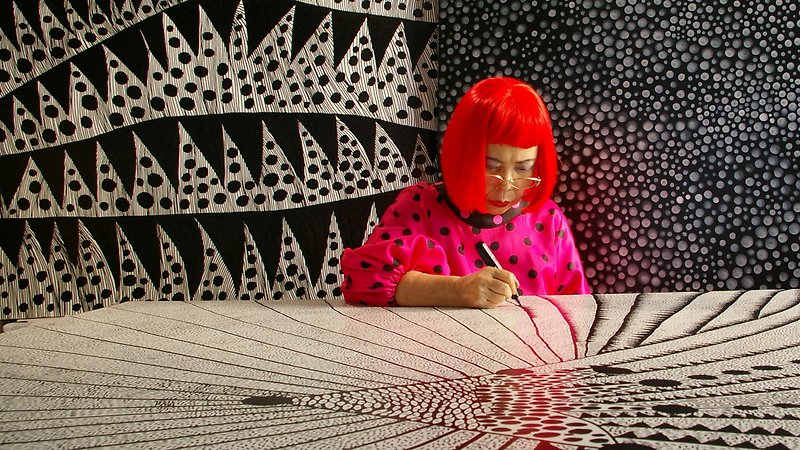 Escaping a traumatic family upbringing in Japan, a young female artist hit 1960s New York determined to succeed. Propelled by a psychological need to make art for her own survival, Yayoi Kusama's extraordinary career has traversed highs and deep lows. Widely known for her polka dot covered realities, she also staged public political happenings as well as gate-crashing the Venice Biennale with an uninvited outdoor work.
Routinely copied by male contemporaries such as Andy Warhol, she faced enormous hurdles of racism and sexism in the post-World War II American art world. Yet her relentless pursuit of recognition, and her ground-breaking use of participatory installation, eventually led her to the fame she deserves.
Kusama literally transforms the world around her into colourful, boundary-less infinities. Now living, age 89, in a mental institution in Toyko, she continues to output work which sells for millions. This is a riveting and comprehensive portrait of the world's most successful living female artist. — Jo Randerson
"Imagine if the unhappy Vincent van Gogh had finally, in late middle age, witnessed the acclaim that his work receives today. That's the bittersweet story of Yayoi Kusama, the 89-year-old Japanese painter and sculptor whose social-media-friendly mirror rooms have made her the most-viewed female artist of all time.
It's vindication for a unique artistic vision that, according to the documentary Kusama – Infinity by Heather Lenz, created soft sculptures before Claes Oldenburg, multiples as wallpaper before Andy Warhol and mirrored rooms before Lucas Samaras." — Kate Taylor, Globe and Mail