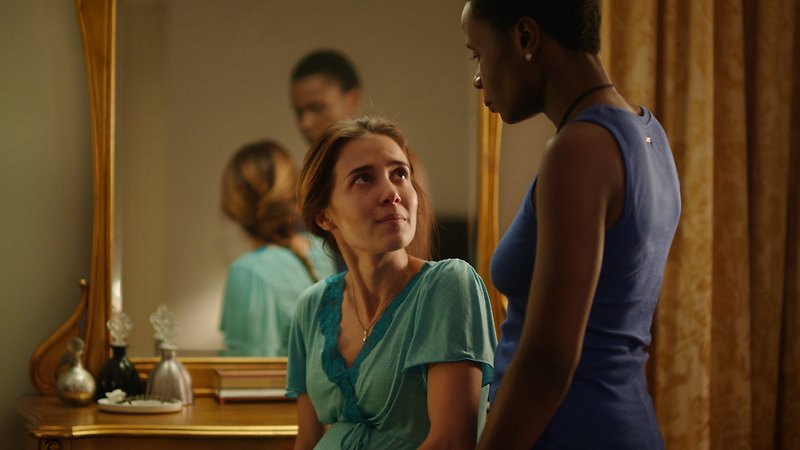 Good Manners
2017
As boas maneiras
Working-class Clara is employed by rich young Ana as housekeeper, in anticipation of her role as nanny to pregnant Ana's baby-to-be. The taciturn Clara finds Ana flighty and irritating, but as her single employer's neediness becomes apparent, Clara reveals sympathy for and a wary attraction to the other woman.
Ana is afflicted by strange pains and, we discover, cravings for bloody meat and nocturnal ramblings that coincide with the full moon. She tells Clara about a one-night stand – a mysterious stranger, a full moon, a strange creature glimpsed in the night – and we can infer the true nature of what is gestating.
These genre ingredients are served up gradually, in artfully moderated staging; distant views of São Paulo seem colourfully heightened and otherworldly. The women are portrayed with compassion and humanity. But make no mistake, Good Manners is playing with some classic mythic elements and it's going to follow through with them – in unexpected but narratively rigorous ways.
To say much more would spoil the surprises ahead. Suffice to say it's Clara we follow as her responsibilities grow. She's the heart of this understated monster movie as it unfolds with a measured, unflinching trajectory. — Jonathan King
"A rapturous, at times freewheeling tale that mixes social drama, horror, and even a touch of musical… what looks like a faintly moralistic tale of two women's budding love across class and racial divides turns into something much more complicated, and darkly fun." — Ela Bittencourt, Film Comment