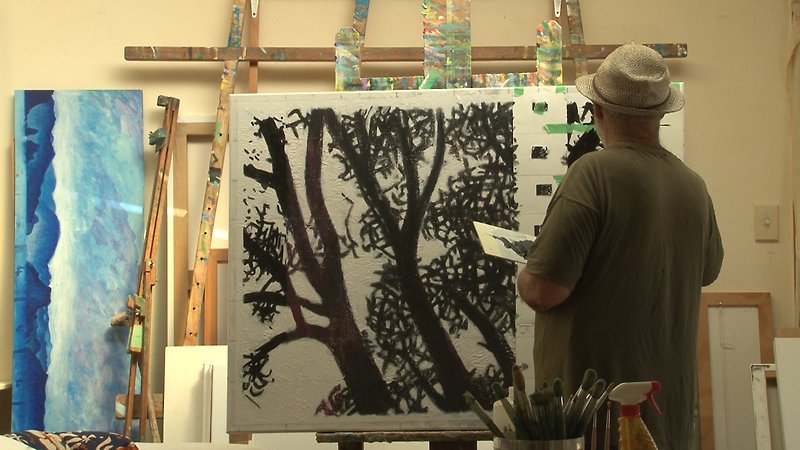 Michael Smither: Light Through the Trees
2017
World Premiere
Michael Smither and Tony Hiles will be in attendance for a Q+A following both screenings.
The eighth episode in NZIFF's long-running serial, Tony Hiles' planned ten-part series about his friend the painter Michael Smither is the simplest to date. The film that brought the two together, One Man and the Sea (1963), was about coastal erosion around New Plymouth and ways to combat it, using the sea itself, and driftwood. The experiments worked and reinforced Smither's commitment to maintaining coastal pōhutukawa (and adding to them) to help manage erosion.
It is not only climate change that is challenging our coastline. Smithers lives just across the road from a small coastal reserve. For some of his neighbours, the centuries-old pōhutukawas are interfering with a view of the sea. One, in particular, has clearly been poisoned.
Michael's silent protest is to plant two more for every one harmed. And to paint the trees in a way he has never tried before, specifically to capture the way the winter light off the sea flickers and shines through the foliage. Hiles follows as the work takes shape and the artist tells us what he's up to. We watch as he notes down sketches from a bank above the trees until he hits on a striking configuration of tree limbs, leaves and light. Then he translates his drawing exactly into a large oil painting, magnificently realised in richly textured black and white.