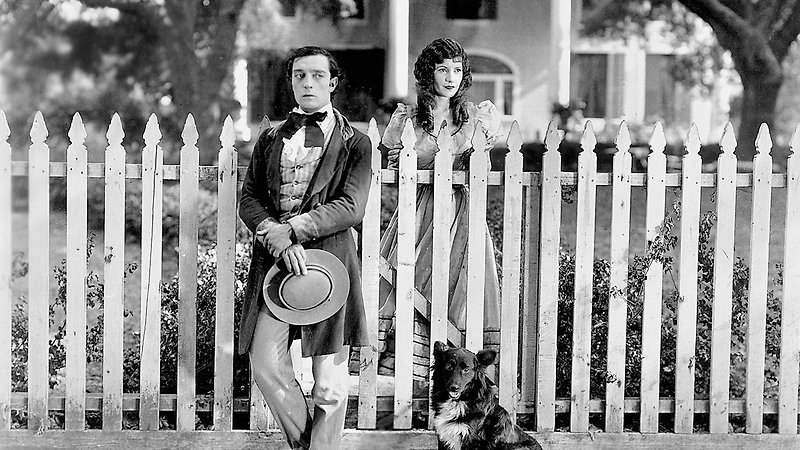 Session dates and venues to be announced
Our Hospitality was only Keaton's second feature-length movie, but it touches perfection in its integration of comedy and dramatic suspense. Its spectacular waterfall sequence is as thrilling and funny an acrobatic feat as you could hope to see, and it was performed, exactly as you see it, by the star himself.
"Our Hospitality is generally considered Buster Keaton's first true feature and one of his major accomplishments. To watch it today with a new score by Carl Davis, is to be reminded of the tremendous sense of freedom that the great silent-era clowns had… This film is Keaton's take-off on the Hatfield and McCoy feud. He casts himself as a young man raised on his aunt's farm in Manhattan (at Broadway and 42nd Street!) who, after coming of age, heads south to collect his inheritance.
Keaton devotes the first part of his picture to all the mishaps that befall him as a passenger aboard a quaint and exceedingly delicate-looking 1830 train travelling through Appalachia. Once he arrives at his destination, he unwittingly heads right smack into his family's ancient enemies – and falls for their fair maiden in the process. Keaton works the tradition of Southern hospitality for all it's worth: as long as he is a guest in the white-columned mansion of those sworn to kill him, he is safe. How he escapes and how he survives leads to timelessly amusing and progressively dangerous escapades, one involving an attempt to navigate a waterfall.
There's a poignant footnote to this lovely, airy comedy. Keaton cast his pretty wife Natalie Talmadge (sister of the more famous Constance and Norma) as his leading lady and even used their baby son in the film, as a way of holding together their troubled marriage. Like all of Keaton's films, Our Hospitality is suffused with wistfulness." — Kevin Thomas, LA Times
"Sheer joy… I love the old silent films (admittedly more the likes of Buster Keaton and Harry Langdon), but this was something pretty special and to have the skills of the Christchurch Symphony Orchestra accompanying them really showed them at their best, a genuine source of entertainment rather than a historical curio." – Patrick Shepherd reviews our 2016 Live Cinema performance, Christchurch Press
Carl Davis is the doyen of contemporary composers for silent film. His score for Safety Last! was a hit at our Live Cinema screening last year. His score for Our Hospitality reproduces the playful style and smaller scale of orchestral accompaniment that would have been standard fare at major city cinemas in the 1920s. This authenticity notwithstanding, the originality of Davis' melodic lines and the intricacy of synchronisation refine the art of film accompaniment far beyond the capacities of the old cinema pit bands.
Marc Taddei conducts Carl Davis' score. A popular guest conductor throughout Australasia, Marc is currently Music Director of Orchestra Wellington and the Vallejo Symphony in California. Marc conducted our two previous Christchurch Symphony Orchestra Live Cinema engagements, Chaplin's The Kid in 2015, and Harold Lloyd's Safety Last! in 2016.