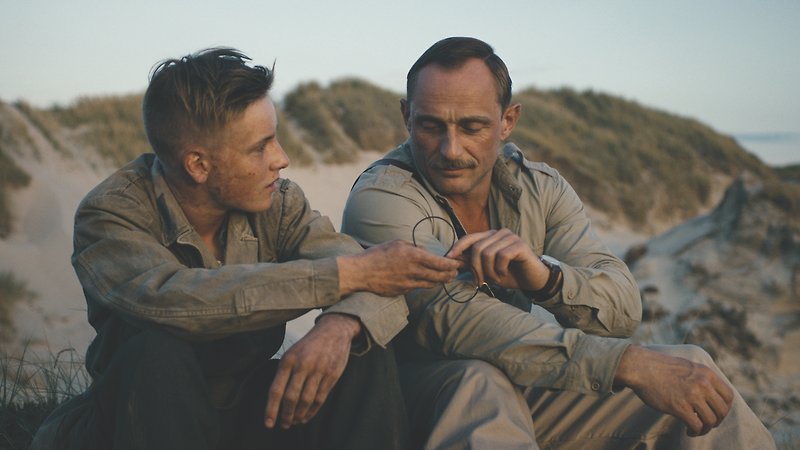 Land of Mine
2015
Under sandet
Former enemies struggle to recognise their shared humanity in this moving and tension-filled drama that draws on a seldom-discussed episode from the end of World War II. Winner of awards and audience prizes at several festivals already, Land of Mine acknowledges Denmark's punitive treatment of young German POWs held in Denmark after the Nazi surrender.
The film's protagonists are put to work to search out and disarm mines that had been buried on Danish beaches by the Nazis in anticipation of an Allied invasion. At first, the Danish sergeant Rasmussen (Roland Møller) supervises his youthful charges with vengeful severity. A solitary individual but for the company of his faithful dog, he shows no hesitation in visiting the sins of the Third Reich on its youngest sons, mere boys conscripted as German manpower dwindled.
Gradually, though, the taskmaster finds himself at odds with those whose orders it is his duty to enforce. The tension is absolute, but never needlessly ramped up in Martin Zandvliet's direction: humane concerns are very much at the centre of his surprisingly poignant film.
"It might seem hard to find a World War II story that hasn't been told, but Danish director Martin Zandvliet has come up with a fresh and compelling approach… [Land of Mine] rediscovers the past and brings it to life with remarkable assurance… This kind of plea for compassion will never lose its relevance… Land of Mine serves up another vivid rendition of this always timely theme." — Stephen Farber, Hollywood Reporter