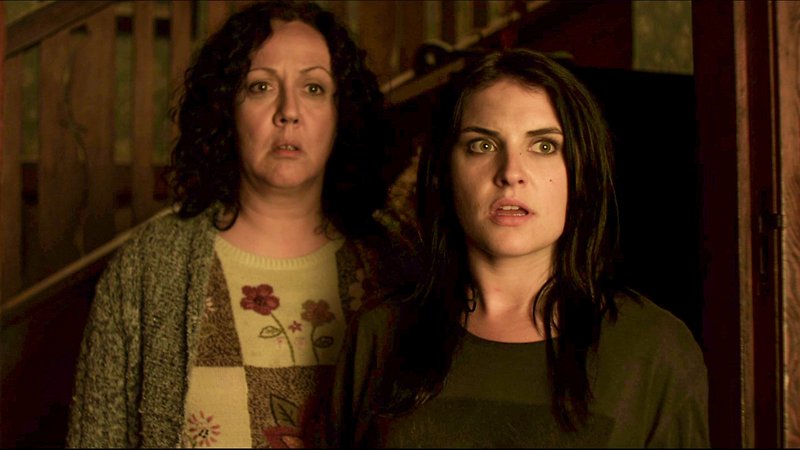 Funny, suspenseful and freighted with fright bombs, Housebound could easily be the most energising fun you've ever had at a New Zealand movie. It's a sensational debut for writer/director/editor Gerard Johnstone (The Jacquie Brown Diaries). A beat ahead of the savviest audience, he steers his film through variations of gothic horror and domestic comedy with the assurance of a genre-morphing native.
Morgana O'Reilly, her scowling face firing off at least 50 shades of pissed off, is Kylie, the awesomely delinquent heroine. Sentenced by the court to eight months' home detention, and fitted with an ankle tracker to ensure she stays there, she's set to make life hell for her mother, Miriam – an epitome of chirpy blather and assaulted propriety in Rima Te Wiata's hilarious performance. Hearing Miriam on talk radio confiding her anxieties about a supernatural presence in the house – which sure looks like it should have one – seems like the last straw for Kylie. Need we say that events in the attic will prove that Miriam's not the total dick her daughter says she is?
Johnstone's pleasure in drawing unexpected notes from his excellent cast is infectious. Glen-Paul Waru is a dead-serious wonder as Amos, the probation officer who has a pro bono side line in ghost-busting, while Cameron Rhodes nails it as Kylie's sanctimonious counsellor. The hit that broke out from nowhere at South by Southwest in March is unmistakably something that broke out from Aotearoa New Zealand. Let's welcome the filmmakers home to an unforgettable night at the Civic.