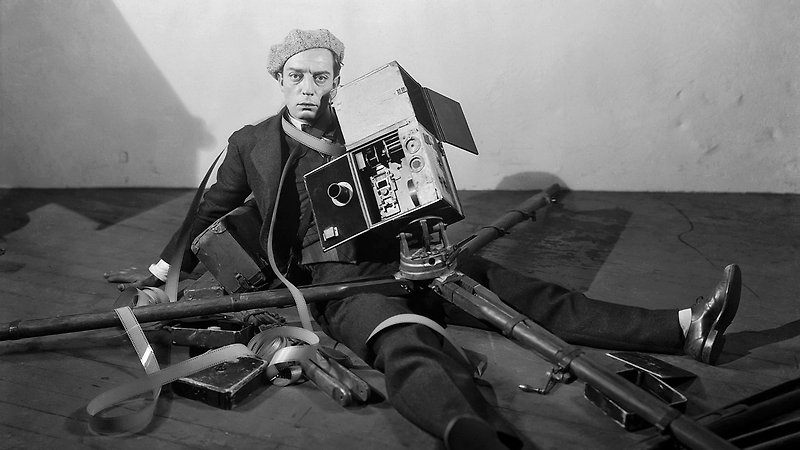 NZIFF's collaboration with the Auckland Philharmonia Orchestra has become an institution we're very proud of. When considering our options for NZIFF 2013, we were irresistibly drawn back to classic comedy. There's no question that Buster Keaton was the master of a golden age. His gags are so cannily devised and pulled off with such nerve that they leave us gobsmacked with delight, while he never blinks an eye. His comedy is intrinsically cinematic, the camera an essential player in the exquisite physics of the universe versus stoic, unimpressed Buster.
Made as the end of the silent era drew near and its artistry peaked, The Cameraman was the first film Keaton made after signing up with MGM Pictures. It was to be his last great achievement, and there are those who consider it his most perfect film. The loss of Keaton's independence was eventually to hurt him badly, but on this film he fought for everything he wanted, and got it. It was a huge popular success. The clothes, the cars, and the camera our hero totes all spell out what it was to be up to date in 1928, but everything that was truly exciting about The Cameraman is ageless and remains fresh to this day.
Keaton aficionados have long noted one MGM-ism that distinguishes the film from its predecessors: the heroine (Marceline Day) is no fool. She's a sweetheart, and Keaton, more apt to express exasperation than fondness for his leading ladies, is completely charming in his dogged courtship of her.
Day plays Sally, a young woman working for MGM newsreels in New York, and Keaton presents himself as a movie cameraman in order to impress her. His exploits in pursuit of a scoop lead him into the midst of a Tong war in Chinatown, risking life and limb before he's quite mastered the camera.
"It is a lucid, beautifully formed dramatic comedy… Keaton, the superb technician, fools with film and makes fun out of technical mistakes… He acts with his whole being. In mute long-shot he can be more expressive than most actors in talking close-up. In some of the funniest moments he is no more than a twirling spot in the distance." — David Robinson, Keaton
Preceded by Cops (18 mins)
In this most famous of Keaton shorts, from 1922, he mistakes an anarchist's bomb for a disposable cigarette lighter and is chased by the entire LAPD.
Marc Taddei conducts Timothy Brock's scores for both films. A popular guest conductor throughout Australasia, Marc is currently Music Director of the Wellington Orchestra. His several Auckland Philharmonia Orchestra Live Cinema engagements have included an exhilarating The Wind in 2006, a superbly romantic Nosferatu in 2011 and an earlier happy encounter with Keaton for Sherlock Jr in 2010.
Timothy Brock is a leading interpreter and composer of orchestral music for silent cinema and has been a regular visitor to the Festival, most recently conducting his restoration of Charlie Chaplin's score for The Gold Rush in 2009. His original scores have become a regular feature of our Auckland Philharmonia Orchestra Live Cinema programme. The score for The Cameraman was commissioned by the Los Angeles Chamber Orchestra in 2010. The score for Cops was commissioned by the Weiner Konzerthaus in 2010 and was premiered by the Viennese chamber orchestra, Die Reihe.
"As much as a composer wants to be funny too he cannot, for it simply kills the image in the classic case of 'too many cooks'. Instead, the music should have, at least on the surface, the appearance of simplicity with the occasional outburst of complexity and force." — Timothy Brock