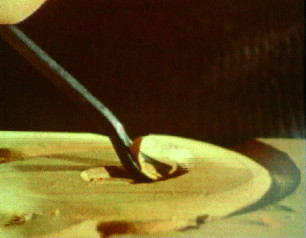 Newly restored prints of the final two programmes of the extraordinary series made by Barry Barclay and Michael King for New Zealand television in 1974.
Turangawaewae – A Place to Stand
1974
Young Maori from Nga Tamatoa travel to Tokomaru Bay to help paint and care for the Tokomaru meeting house, built between 1928 and 1934. For some Tamatoa members, this is their first marae experience. The documentary moves to Porirua, where a new marae is being established. Prior to its establishment, local Maori recall the past reality of life in rural communities such as Tokomaru Bay and Waima Valley and the concept of marae, as traditionally understood, is set against the terms of the new urban present. As diverse Pakeha - and Pacific Island community networks attempt to form links with the marae, real questions are raised about the nature of identity and the possibility of a 'multicultural' future.
In a Tokomaru Bay meeting house there is a carving which the people say will weep when something in the Maori world is lost. This last episode in the series explores the importance of the passing on of shared memories, knowledge and history to the next generation.