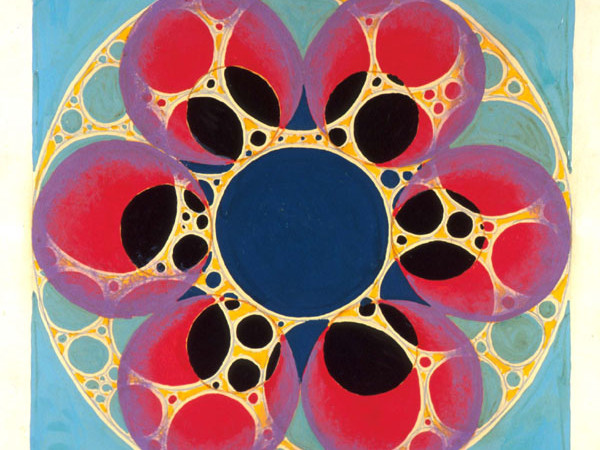 The FPS programme gives filmmakers full right to explode the parameters of possibility and expand the rich history of creative innovation that is Cinema!
Witness the unpacking of "cinema" from its box and its reassemblage into limitless formations of light, sound and the incredible phenomena that happen between them.
Early Experimental Films
1956
Harry Smith was one of America's premier visionary filmmaking alchemists. His extravagant abstract films merged the realms of art and magic. Smith used his eccentric views of reality and art to remap his universe in dizzying displays of animation and cross-sensory exploration. Smith always insisted his films were made for contemporary music so we are pleased to present them with a live improvised soundtrack by experimental music purveyors Audible < 3.
An Inflating Screens Event with Segments
2008
An event where the audience gets to manipulate the screen space. Lou Cohen is both the composer and animator of Segments (2005). Now in his 80s, he has composed music since the age of 12, studied under John Cage and had his DIY computer experiments screened worldwide.
Having studied, taught and exhibited from Belfast to the US since the 50s, Adrian Hall creates innovative and witty re-contextualisations of materials from vacuum cleaners to badges. Here he applies a rebellious prank interpretation to the conductor's instructions in Disney's classic Fantasia using a layered succession of live drummers.
Kim Pieters is an abstract painter with a long history of commitment to photography, improvisational film and music. 'goldgrid' is part of her continuing inquiry into chance, the tracing and notions of the sublime (eg mucking around with the being-human-and-being-alive thing).
Dirt Room Tomographic
2007
A tomographic animation of an accounts book found in a hollowed-out dirt room beneath the None Gallery in Dunedin. It's one of many giant receipt books that The New Zealand Drug Company left to decompose in this subterranean archive for the past 70 years.
Blue Tide, Black Water
2008
Amid an ocean of wax one might chance upon a garden of flowering chemicals where filmmakers Sam Hamilton and Eve Gordon circumnavigate microscopic reactions to create their first epic on 35mm.