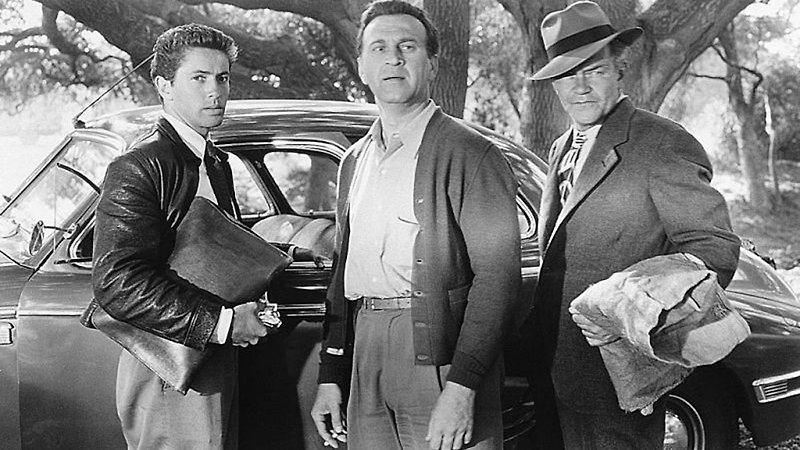 After pursuing varied artistic endeavours through the 1930s and the war, and with scant experience in film, Nicholas Ray was offered his chance to direct a feature at RKO in 1947. They Live By Night was one of the pessimistic crime melodramas subsequently termed film noir. Adapting the novel Thieves Like Us, it's the poignant tale of a young criminal on the run with his naïve girlfriend. Ray's manifold talents made it one of the great directorial debuts of all time.
The sub-genre of lovers on the lam has always been popular (You Only Love Once, Gun Crazy, Bonnie and Clyde, Badlands, and They Live By Night bears similarities with many such films. The film suffered a two-year delay in release because RKO head Howard Hughes thought its Depression-era flavour was outdated. Ray, though, had made a contemporary, uncynical study of solitary anguished youngsters at war with society.
Bowie is a victim not just of society but of circumstance, bad company and himself. Fresh faced Farley Granger is ideally cast as the innocent, good-natured apprentice gangster. Luminous Cathy O'Donnell is affecting as his unworldly lover Keechie, matching him in romantic appeal. By concentrating not on their crimes but on their love, Ray makes sure we see the spiritual flame burning within each of their faces.
Their relationship begins in almost child-like innocence as Bowie and his on-the-run gang hide out with Keechie's family. He is 23 but has been in prison for seven years. She tends his injuries. They talk tentatively of their attraction and of his dreams to escape, and she offers to flee with him. They alight from a Greyhound bus for a quickie wedding in a tacky, comical roadside marriage parlour, but Ray suffuses even this moment with romanticism. Later, when Bowie rejoins the gang and forces them to be fugitives again, Keechie is angry and says she is tired of being on the run. Faced with the responsibilities of imminent fatherhood, Bowie decides to leave by himself in order to spare her arrest.
The original novel was a radical critique of America in which Keechie and baby died along with Bowie at the end. Marxist critics disliked the lack of social analysis and determinism in Ray's version, but noir is actually more about entrapment, victimisation, and an inability to escape the past than it is about confidence in the perfectibility of human beings. — Brian McDonnell