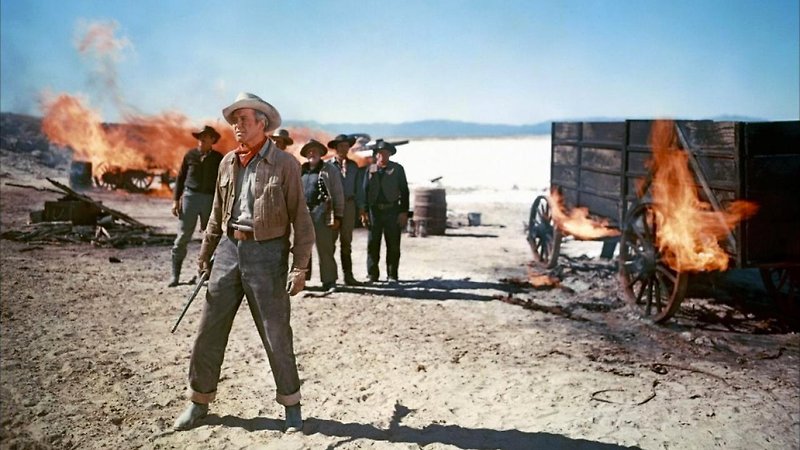 The Man from Laramie
1955
Between 1950 and 1955, noir veteran Anthony Mann teamed with star Jimmy Stewart to create a series of five uncompromising westerns that transformed the genre. With these films, Mann brought a new psychological complexity to the western, exposing frontier life as tough, brutal and punishing and its heroes as borderline psychotics. Embodying the ambiguous heroes of these sagas, James Stewart firebombed his folksy, affable star persona and reinvented himself as a ruthless, cynical antihero. Without these performances, Stewart's casting in Hitchcock's brooding Vertigo would have been unimaginable, and his collaborations with Mann paved the way for the dark westerns by Sergio Leone, Monte Hellman and Sam Peckinpah that defined the genre in its twilight years.
The Man from Laramie was the last of the Mann/Stewart westerns (the iconic Man of the West, in which Gary Cooper takes on the Stewart role, capped the cycle), and a strong contender to be considered the best. Stewart rides into a nowhere town, becomes entangled in some local unpleasantness and spends the rest of the film clawing his way out of it.
The first Mann/Stewart western, Winchester '73, had combined a single-minded pursuit (Stewart is after his stolen gun) with a picaresque journey (as the gun continues to change hands). With the films that followed the picaresque element dropped out, and the storylines were streamlined to deliver ever more focused tales of pursuit and revenge, ever more classical in their narrative concentration and the grandeur of their emotions.
Mann's dream project had been a western based on King Lear, and this film is a brilliant dress rehearsal for that unrealised film, transposing the Gloucester subplot (an imperceptive father of warring brothers) to an American desert hell. In Mann's version neither son is wholly good, and legitimacy is no guarantee of moral worth. Shakespeare's gruesome onstage blinding is more subtly imagined here, but Mann substitutes a moment of intimate violence scarcely less appalling. Stewart's enraged reaction to this barbaric act is one of the most electrifying moments in an unforgettable film. — Andrew Langridge